'The Flash' Director Andy Muschietti has Confirmed a Huge Cameo in the Movie
Spoiler Alert! In addition to the likes of Michael Keaton and Ben Affleck as Batman and the return of Michael Shannon's General Zod, we'll be seeing someone else from the comics.
Before you read any more of this story, we would caution you to wait until you've seen 'The Flash', the stand-alone movie for Ezra Miller's speedy DC hero, which will run into theaters on June 16th. A major cameo will be discussed below, and we'd hate for anyone to be spoiled.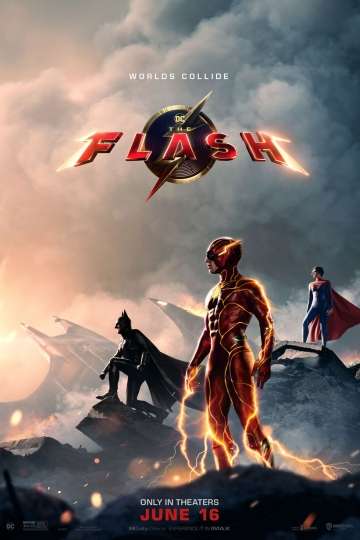 "Worlds collide."
2 hr 24 min
Jun 16th, 2023
Showtimes & Tickets
When his attempt to save his family inadvertently alters the future, Barry Allen becomes trapped in a reality in which General Zod has returned and there are no... Read the Plot
SPOILER ALERT!
Still with us? Okay… While 'The Flash' is already bursting with DC characters including Michael Keaton reprising his role as Bruce Wayne/Batman from Tim Burton's 'Batman' and 'Batman Returns,' Ben Affleck as the Snyderverse version of the same character, Michael Shannon as a multiverse variant of 'Man of Steel's General Zod (alongside Antje Traue's return as his faithful lieutenant, Faora-UI) and Sasha Calle as a new version of Supergirl, the movie promises several more, and possibly the biggest has been confirmed by director Andy Muschietti.
Talking with Esquire Middle East, Muschietti revealed that Nicolas Cage is appearing in a cameo as Superman.
Here's what Muschietti had to say,
"Nic was absolutely wonderful. Although the role was a cameo, he dove into it. I dreamt all my life to work with him. I hope I can work with him again soon. He is a massive Superman fan. A comic book fanatic."
Was Nic Cage going to play Superman in the past?
Yes, Cage is finally realizing a long-held dream to play the last son of Krypton in a movie. While this is only a cameo, he got close to playing the character in a cancelled movie called 'Superman Lives'.
Originally written by Kevin Smith (among others), the movie was planned for Renny Harlin to direct and for Cage to star as what he has described as an "emo" Superman will long black hair and a darker suit.
Cage, though –– who is such a fan of the character that he named one of his kids Kal-El after Supes' Kryptonian moniker and once owned a copy of 'Action Comics #1', which features the first ever appearance of the superhero –– thought that Tim Burton, who had brought such style to his 'Batman' films, might be a better fit.
While it got to the stage of Cage going through suit fittings (you can see video of that here) creative differences and budget issues eventually derailed the movie in 1999. The ill-fated production was chronicled in the 2015 documentary 'The Death of "Superman Lives": What Happened? .'
Yet Cage did end up playing Superman once, albeit in animated form in 2018 'toon movie 'Teen Titans GO! To the Movies'. Now, though, he has his dream come true at last.
There are more secrets to be found lurking within the 'Flash' movie, but you'll have to wait and see them for yourself.
The final trailer for 'The Flash' is also available, and you can see it below.
'The Flash' will be in theaters on June 16th.
Other Movies Similar to 'The Flash:'
Warner Bros. Pictures presents a Double Dream/a Disco Factory production of an Andy Muschietti film, 'The Flash.' It will be distributed worldwide by Warner Bros. Pictures and is set to open in theaters in North America on June 16, 2023 and internationally beginning 14 June 2023.