Daniel Radcliffe is Al Yankovic in the Full Trailer For Comedy Biopic 'Weird'
The movie also stars Evan Rachel Wood as Madonna, Rainn Wilson as Dr. Demento, and Quinta Brunson as Oprah Winfrey.
We're getting ever closer to the release of 'Weird: The Al Yankovic Story', which has Daniel Radcliffe bringing the curly-locked comedy musician to screens for a biopic that only earns that title in the loosest of terms (on purpose).
Now here comes the full trailer, which pitches the movie along the lines of 'Walk Hard', injecting a lot of a parody feel into Al's life.
There's certainly a lot of material to draw from in the musician's career to date: "Weird Al" Yankovic has enjoyed quite the career as the biggest-selling comedy recording artist of all time.
A five-time Grammy winner, his 2014 release 'Mandatory Fun' was the first comedy album in history to debut at #1 on Billboard's Top 200. He is one of only three artists to have had their own top 40 hits in each of the last four decades (the other two being, coincidentally, Michael Jackson and Madonna).
On August 27, 2018, the Hollywood Chamber of Commerce awarded Weird Al with a star on the Hollywood Walk of Fame. He has also popped up in a host of movies, shorts, and TV series, either as himself or other characters, and might be best known for indie comedy movie 'UHF', which was released in 1989.
The new movie, which was spurred by Yankovic's decision to chronicle his "depraved and scandalous" life (we're still trying to figure out if he's joking on that front) will chart his days spoofing the likes of the Madonna and Michael Jackson. He wrote the script alongside director Eric Appel, who has worked on projects such as 'Silicon Valley' and various Funny Or Die shorts (the comedy company is producing the movie alongside Tango).
Radcliffe certainly looked the part in the initial imagery, and the teaser showed him doing a fair approximation of Yankovic's trademark voice and singing style. Plus, he's clearly been learning his way around an accordion. And it certainly does its job, making you want to see more from the movie, which also features Rainn Wilson, Julianne Nicholson, Quinta Brunson and Toby Huss among its cast.
One of the highlights, though, would seem to be Evan Rachel Wood as Madonna, who ends up leading our hero astray in a torrid affair that sets him on a path to drugs and drink. Again, a lot of this is aiming to spoof the usual talent biopic.
But it also looks like a lot of fun, with a fully committed performance by its star and more accordion moments than anyone truly asked for. But it's Weird Al, so that comes with the territory.
'Weird' will premiere as part of the Midnight Madness strand at this year's Toronto International Film Festival before becoming available on the Roku Channel from November 4th.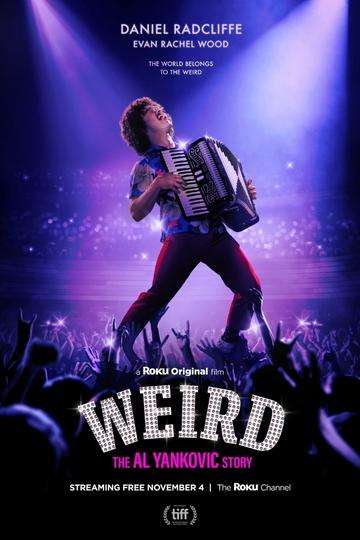 "The world belongs to the weird."