 It's hard to imagine being nostalgic for a midlife crisis. Nonetheless, it's been 25 years since Billy Crystal conceived of, produced, and starred in the funniest midlife-crisis movie ever. A quarter-century after the release of "City Slickers" (on June 7, 1991), fans remember it fondly for its story of three tenderfoot cowpokes out of their depth, for Jack Palance's wonderfully hard-bitten trail boss, and for generating one of the most memorable moments in Oscar history.
In honor of the film's 25th anniversary, we've rounded up these little-known "City Slickers" facts.
1. Crystal came up with the idea for the movie while watching a TV show about middle-aged men going on life-changing fantasy vacations. He borrowed the plot from John Wayne's "The Cowboys," reimagined it as a comedy, and hired screenwriters Lowell Ganz and Babaloo Mandel to craft it into a screenplay. The two writers were too lazy to visit an actual dude ranch to do the research; they wrote the script first, then phoned a dude ranch owner to check on their story's plausibility. 2. When Crystal was a kid, his dad ran a popular Manhattan record store and knew a lot of jazz musicians, and seven-year-old Crystal had no less than Billie Holiday for a babysitter. He sat on her lap when he went to see his first movie, the classic 1953 Western "Shane." Crystal never forgot Jack Palance's Oscar-nominated performance as the heavy, which is why Palance was Crystal's first choice to play Curly in "City Slickers."
3. Initially, Palance was unavailable, so Crystal sent the script to Charles Bronson. Far from being flattered, the veteran movie tough-guy was insulted. Bronson cussed out Crystal, complaining of the proposed role, "I'm dead on page 64!" Fortunately, Palance's schedule cleared up. 4.Rick Moranis was initially supposed to play Daniel Stern's part, but he had to drop out because of his wife's cancer diagnosis.
5. Yes, that's a 10-year-old Jake Gyllenhaal making his film debut as Crystal's son. "He was always performing," Crystal recalled of the boy's on-set behavior. "He would sing from 'South Pacific,' and we'd all go, 'He's gay, he's going to be gay.'" 6. Crystal's softball team pal and "When Harry Met Sally" co-star Bruno Kirby rounded out the cast, even though he was allergic to horses and had to get an allergy shot every day on the set.
7. Crystal's "best day of my life" story actually happened to him. He really did go to Yankee Stadium with his dad, and he even got Mickey Mantle to autograph his program. The birthday call from his mom (voiced by Jayne Meadows) was also an annual ritual for Crystal, and the story Meadows tells of the events surrounding her son's birth is really the story of Crystal's entry into the world. 8. "City Slickers" cost a reported $27 million to make. It earned $124 million in North America and a total of $179 million worldwide.
9. The film was credited with spurring an increase in cattle ranch vacations. Among those influenced was co-star Daniel Stern himself, who bought himself a cattle ranch. 10. When his "City Slickers" performance won the Oscar for Best Supporting Actor -- 38 years after his previous nomination, for "Shane" -- Palance famously wowed the Academy Awards audience and host Crystal with a celebratory round of one-armed push-ups. Turns out the 73-year-old was re-enacting the display he'd given to the film's insurers to prove he was fit enough to play Curly.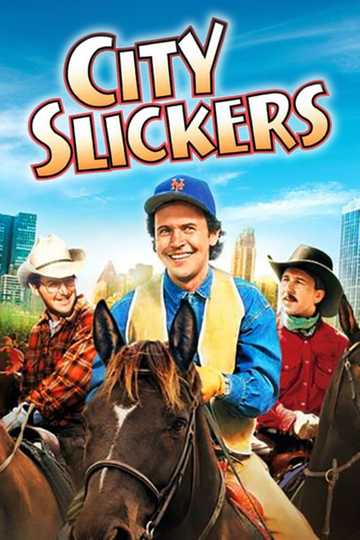 City Slickers
Three New York businessmen decide to take a "Wild West" vacation that turns out not to be the relaxing vacation they had envisioned. Read More