 It's been far too long since we've seen ghosts getting busted on the big screen, but that's finally going to change as the new "Ghostbusters" reboot hits theaters. This reboot will introduce a whole new team of intrepid ghost hunters. Hopefully someone warned them not to cross the streams.
As the new movie nears, fill your cup with Ecto Cooler, sit back and check out this list of five things you need to know before watching the new "Ghostbusters."
1. It's a Reboot, Not a Sequel Entire books could be written about the many futile attempts to make "Ghostbusters 3" a reality. After countless false starts, Sony finally ditched the idea of commissioning a direct sequel to the previous two films and instead moved forward with a total reboot in 2014.
That, plus the addition of director Paul Feig, was the spark the project needed to finally leave development hell and become a reality.
2. It (Mostly) Features New Characters While the new "Ghostbusters" is a reboot of the franchise, don't expect it to merely rehash the events of the 1984 original or even feature the same lineup of characters. No Ray, Egon, Peter or Winston this time around. (But you will see the original surviving cast members. More on that in a bit.)
Instead, this reboot revolves around two disgraced believers in the paranormal -- Abby Yates (Melissa McCarthy) and Erin Gilbert (Kristen Wiig) -- who are determined to prove the existence of ghosts. After hooking up with a kooky nuclear technician named Jillian Holtzmann (Kate McKinnon), a brash subway worker named Patty Tolan (Leslie Jones), and a hunky secretary named Kevin (Chris Hemsworth), these intrepid women form the all-new Ghostbusters.
Even the villain is different this time around. Rather than recycling Gozer or Vigo, the reboot is introducing Rowan (Neil Casey), a powerful demon intent on unleashing a ghostly apocalypse upon Manhattan. But don't fret, there is one familiar face returning. Slimer will be there to make life difficult for the new Ghostbusters.
3. Not Everyone Is Excited You'd think the prospect of getting the first new "Ghostbusters" movie in 25 years would be cause for universal celebration among the geek community, but you'd be wrong. Some Walter Pecks-in-training were dead set against the project before the first images and footage even appeared. And when the first trailer did hit the Internet, it quickly became the most disliked movie trailer in YouTube history.
Why such a negative reaction when "Ghostbusters" is hardly the first classic '80s property to get the remake/reboot treatment? Most of the hate seems to center on the female-dominated cast. But Sony isn't worried. In fact, Sony studio chief Tom Rothman called this online controversy "the greatest thing that ever happened" as far as the new movie is concerned. They do say that any publicity is good publicity.
4. The Original Actors Will Have Cameos This may be a reboot, but that doesn't mean we won't be seeing some familiar faces in the new movie. Much of the surviving cast from the original movies will be making cameo appearances, including Dan Aykroyd, Bill Murray, Ernie Hudson, and Annie Potts. They won't be playing their original characters, obviously, but it'll still be neat to see the old gang back together (minus the late, great Harold Ramis and the still-retired Rick Moranis).
Murray's presence is especially notable given that his reluctance to appear in another Ghostbusters movie is one of the main reasons "Ghostbusters 3" never happened. But as Murray told Vulture, he agreed to appear in the reboot as a sign of support for the new crew.
5. There Might Be a Ghostbusters Shared Universe Shared movie universes are all the rage these days (thanks, Marvel), and there's a chance the "Ghostbusters" franchise will be getting that treatment in the years ahead.
Word leaked in 2015 of a another "Ghostbusters" movie in development, this one possibly produced and directed by The Russo Brothers ("Captain America: Civil War") and rumored to feature an all-male team anchored by Channing Tatum and Chris Pratt. The plan is to apparently to introduce two separate teams that would eventually team up, Avengers-style, and pave the way for a larger shared universe full of wacky ghost hunters.
It's not clear what the state of that spinoff is these days. The Russos are certainly keeping busy with their Marvel obligations. But there's also word of a new animated movie produced by original "Ghostbusters" director Ivan Reitman. Maybe Ray, Egon, Peter, and Winston will feature in that one?
Plus, there's also the "Ghostbusters: Ecto Force" animated series slated to debut in early 2018. So it sounds like our favorite blue collar paranormal exterminators will be keeping busy in the years to come.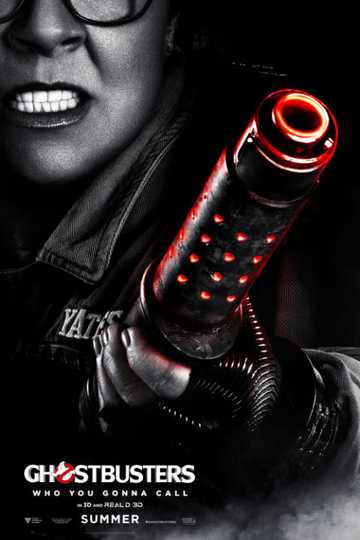 Ghostbusters
Following a ghost invasion of Manhattan, paranormal enthusiasts Erin Gilbert and Abby Yates, nuclear engineer Jillian Holtzmann, and subway worker Patty Tolan band together to stop the otherworldly threat. Read More