 After all the controversy surrounding new family-friendly flick "A Dog's Purpose" -- namely, the alleged mistreatment of one of the canine actors used in the film, which producers have strongly denied -- can the movie overcome that negative attention and still find success at the box office? The jury's still out on that question, though critics think audiences should skip the flick for entirely different reasons.
As reviews for "A Dog's Purpose" hit the internet this week -- contributing to a current Rotten Tomatoes score of 32 -- there seemed to be an underlying theme: Controversy aside, the movie just isn't very good. While critics noted that imagery of cute canines will be catnip to dog lovers, they also stressed that the film -- whose premiere was canceled last week -- relies too heavily on schmaltz, as well as no less than four disturbing doggy deaths, most of which are depicted on screen.
Here's a roundup of some of the most brutal reviews of the movie:
Brian Lowry, CNN Entertainment:
The leaked video involving a reluctant canine has likely blunted enthusiasm for "A Dog's Purpose," but that controversy is separate from what a strange, wildly uneven film it is. ... [I]f the question is, "Who's a good movie?," well, not this. ... "A Dog's Purpose" pretty quickly goes to the dogs.
Alonso Duralde, TheWrap:
A Nicholas Sparks movie crossed with a Blue Buffalo dog food commercial ... this much saccharine isn't healthy for animals or humans.
Chris Packham, The Village Voice:
[A] dog's purpose, it turns out, is to be reincarnated into a different sappy mini-Hallmark movie after every death. ... [T]he film is ridiculously manipulative, guiding the audience through scenes of doggy loneliness and low-grade cruelty from humans. ... Dog deaths are the low-hangingest of low-hanging fruit; it's a rare film that pulls that trick four times.
Will Ashton, The Playlist:
An asinine canine journey for the dog lover's soul, ... [the film is] so cloyingly sentimental that it sacrifices any and all headiness for joke book-level lame puns and overwhelmingly lazy writing. ... "A Dog's Purpose" is an awkward, graceless, meandering and unnecessarily cruel dog movie, and therefore a fairly meaningless one. If you want some dog-related cuteness, look elsewhere. YouTube videos treat you better, and for a shorter period of time.
Neil Genzlinger, The New York Times:
You don't need an animal-rights group's boycott to give you permission to avoid "A Dog's Purpose." You can skip it just because it's clumsily manipulative dreck. ... It seems likely to prompt youngsters to ask for a dog, but it depicts almost none of the challenges and responsibilities of pet ownership. In this glossy world, dogs require little maintenance. They're just there, at the ready, waiting for you to fall into a river so they can pull you out.
Katie Rife, The A.V. Club:
So what is a dog's purpose? To provide gentle, forgettable entertainment for moviegoers who lament that "they" don't make "nice" movies anymore, apparently. For the rest of us, it's more like a 100-minute nap. ... Maybe next time, 'A Dog's Purpose' can be reincarnated as a good movie.
"A Dog's Purpose" opens today, January 27.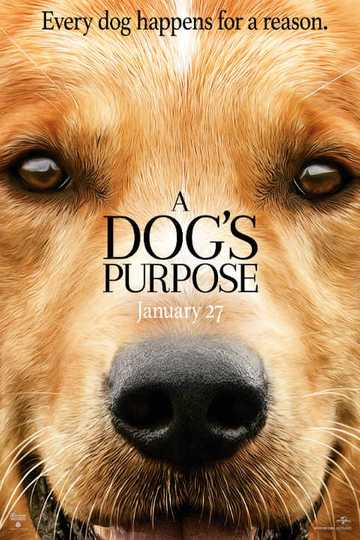 A Dog's Purpose
A dog goes on quest to discover his purpose in life over the course of several lifetimes with multiple owners. Read More