 It's been 20 years since the beloved Julia Roberts favorite "My Best Friend's Wedding" hit theaters, and you probably still have "I Say a Little Prayer" stuck in your head.
The classic rom-com was released June 20, 1997, and earned some critical acclaim and box office success. It catapulted Cameron Diaz and Rupert Everett to fame and solidified Roberts as one of Hollywood's most popular (and bankable) leading ladies.
Even though Julianne Potter's last ditch efforts to win over her BFF before he ties the knot to someone else are morally questionable, we still can't get enough of this delightful romance. Here are nine things you (probably) didn't know about the film. 1. It's hard to imagine the movie without Julia Roberts as the lead, but the role of Julianne was originally offered to Sex and the City."
2. Cameron Diaz became a household name after playing bride-to-be Kimberly Wallace to perfection, after Julia Roberts suggested her for the part. Cameron's real-life bestie, Drew Barrymore, also read for the role of Kimberly. 3. Rupert Everett's role as George was originally supposed to be much smaller. After the studio tested the film, he ended up being so beloved by audiences that the producers gave him a bigger part.
4. Julianne was supposed to end up in the arms of a new beau in the form of John Corbett, but that ending didn't test well with audiences. Enter Rupert Everett to say the day! Julianne and Rupert dance together, which made the final cut. 5. The film was nominated for one Oscar -- Best Original Musical or Comedy Score. Julia Roberts and Rupert Everett both earned Golden Globe nominations for their performances and the film was nominated for Best Motion Picture, Comedy or Musical.
6. 1997 was a major standout year for summer blockbusters, and "My Best Friend's Wedding" was one of the year's top-grossing films. It was a global box office smash, too, ranking eighth among the highest-grossing films of the year. 7. Sequel? Probably not. In 2001, producer Jerry Zucker said there were talks going around about the concept of "My Best Friend's Divorce," which would find Kimmy and Michael (Dermot Mulroney) on the verge of a split, but they couldn't make it work.
8. A TV reboot was in the works for ABC back in 2015, which picked up where the movie left off. Unfortunately, the project didn't get off the ground. 9. A Chinese remake of the film was released in 2016.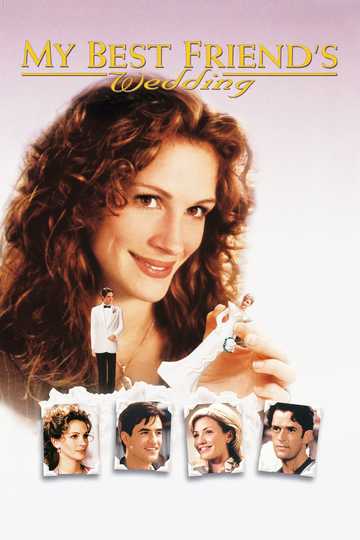 My Best Friend's Wedding
When she receives word that her longtime platonic pal Michael O'Neal is getting married to debutante Kimberly Wallace, food critic Julianne Potter realizes her true feelings for Michael -- and sets out... Read More