 Someone is going to need to be Halle Berry's sober buddy at San Diego Comic-Con.
The "Kingsman: The Golden Circle" star was part of a panel with her co-stars on Thursday when she demonstrated that she can pound a glass of bourbon as well as any frat boy. When a bottle was being passed around, Channing Tatum got it and gave her a hefty pour. Unfazed, Berry got up and chugged her drink, surprising and entertaining the audience and her cast mates.
Luckily, there's a video of it, thanks to USA Today writer Brian Truitt. It not only shows the actress downing her drink but also the aftermath. As Tatum bowed down to her and Pedro Pascal applauded, Berry celebrated her accomplishment, and then jokingly collapsed.
Halle chugs her adult beverage. #kingsman#sdccpic.twitter.com/JEq5Y8MKRu

— Brian Truitt (@briantruitt) July 20, 2017
When you get a look at Tatum's pour, you'll be impressed, if you weren't already; the photos show a glass that's definitely more than half-full. We have a feeling Berry might regretted that later. Maybe next time she'll heed the moderator's warning to "drink responsibly."
[via: USA Today]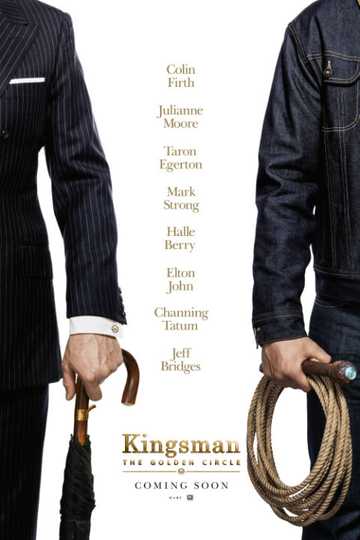 Kingsman: The Golden Circle
When an attack on the Kingsman headquarters takes place and a new villain rises, Eggsy and Merlin are forced to work together with the American agency known as the Statesman to save the world. Read More