'Pitch Perfect 3' Trailer Shows the Bellas on Thier Farewell Tour
The new trailer for "Pitch Perfect 3" indicates this is the final curtain call for everyone's favorite a cappella group. But are the Bellas themselves -- and audiences, for that matter -- really ready to say goodbye?
When we pick up with our post-college protagonists, it's clear that they're all longing to be back in the spotlight. (Fat Amy even resorts to punching a giant fish in frustration.) Luckily, a USO tour is looking for participants, and the Bellas hop a jet overseas.
They quickly realize, though, that not everyone performs without instruments ("We like to keep it oral," Chloe not-so-helpfully interjects when a plugged-in group fronted by Ruby Rose takes the stage), and they're not exactly the hot ticket anymore. Can the girls come to grips with moving on in life? And will Beca really sign a solo contract, leaving her fellow Bellas in the dust?
We have a sneaking suspicion the latter answer will be "no." As for moving on, the "Pitch Perfect" series may or may not be wrapping after this flick bows, depending on whether you believe the stars or the studio's marketing. We'll have to wait and see how things shake out.
"Pitch Perfect 3" is due in theaters on December 22.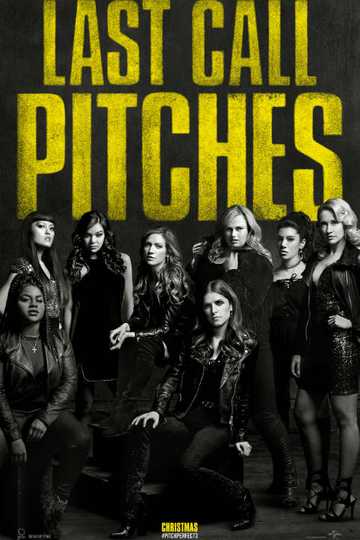 "Last Call Pitches"
1 hr 33 min
Dec 22nd, 2017
After the highs of winning the world championships, the Bellas find themselves split apart and discovering there aren't job prospects for making music with your... Read the Plot