Here's Why John Travolta's 'Gotti' Movie Will No Longer Release Next Week
Director Kevin Connolly and John Gotti's daughter blasted previous "fake news."
Headlines came out yesterday claiming John Travolta's John Gotti biopic was dropped by Lionsgate just days before its scheduled December 15 release date. "Entourage" star Kevin Connolly directed "Gotti," which costars Kelly Preston, Travolta's real-life wife, as Victoria Gotti.
It was presented as bad news, with no explanation, so Connolly, Angel Gotti, and an executive producer on the film shot back:
WRONG!!!! https://t.co/6GVK6b60Mv

— Kevin Connolly (@mrkevinconnolly) December 6, 2017
NOT TRUE! https://t.co/YL0jODtOHC

— Angel Gotti (@AngelGotti5) December 5, 2017
I would never lie, if the movie was dumped I'd say it. I've told everyone since November 15th, that something GREAT has happened and it will be announced very soon! #GOTTI is coming to a movie theater near you very soon!

— Angel Gotti (@AngelGotti5) December 6, 2017
FAKE NEWS. The John Travolta film did NOT get dropped by the studio, it actually got millions of dollars more and will receive a larger release. A True Mob masterpiece about the biggest mobster of the past 50 years. Great job @mrkevinconnollyhttps://t.co/tUZwbFUNW4

— Keya Morgan (@KeyaMorgan) December 6, 2017

They soon set the record straight via Deadline:
— Kevin Connolly (@mrkevinconnolly) December 6, 2017

According to Deadline's sanctioned report, this is good news because Lionsgate Premiere wasn't going to give the film a wide release -- it was going limited and On Demand Dec. 15 -- but the Gotti producers decided they wanted to give the movie a wider release. And funding arrived to make that happen:
"There was a buy-back clause in the distribution agreement, so the producers exercised it. It was never a matter of Lionsgate dumping the film. An outside investor has backed Gotti so that it could get a wide release in May, and Lionsgate was generous to let the film go. Gotti has been sold back to its producers, Emmett/Furla/Oasis, which produced the film alongside Highland Film Group and Fiore Films."
So instead of opening on December 15 -- aka Star Wars Day, where it would be crushed like Alderaan -- the film will now open wider in May. (Where, let's be honest, it will probably be crushed by the Avengers.)
Anyway, it's good news for "Gotti."
Here's the trailer:
Want more stuff like this? Like us on Facebook.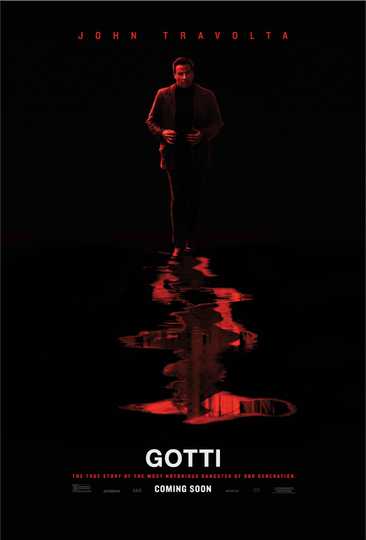 "He showed the world who's boss."
1 hr 46 min
Jun 15th, 2018
John Gotti rises to the top of the New York underworld to become the boss of the Gambino crime family. His life takes a tumultuous turn as he faces tragedy, multiple... Read the Plot