December 10th, 2017
by Gary Susman
Until 'Star Wars: The Last Jedi' Opens, 'The Disaster Artist' is a Box Office Success Story
Here's what box office experts are talking about this weekend: How big will "Star Wars: The Last Jedi" be? Will it top $200 million when it opens next weekend? How much will other movies playing next door at the multiplex benefit from Jedi'''s drawing power? Will 'Jedi' be enough to turn around a dismal 2017 and help it catch up with or surpass last year's total box office?
Here's what they're not talking about: this weekend's new movies.
In part, that's because there was only one new wide release, old timer action comedy "Just Getting Started." The Morgan Freeman-Tommy Lee Jones-Rene Russo movie barely got started with critics or audiences, earning an abysmal 9 percent fresh rating at Rotten Tomatoes and debuting in tenth place with just $3.2 million.
Mostly, however, it's because 'Jedi' looms so large. Since the Thanksgiving release of Pixar's "Coco" -- still topping the chart in its third weekend, with an estimated $18.3 million, and a total of $135.5 million to date -- the studios have held off on their big year-end movies, hoping to ride the Skywalker family's coattails to success. Audiences seem to be waiting as well, holding onto their most of their cash until 'Jedi' opens and spending just an estimated $81.4 million at the multiplex this weekend, marking the fourth lowest-grossing weekend of 2017 so far.
Still, there was plenty going on at the box office among Oscar-hopeful films, taking advantage of the vacuum and drawing grown-up audiences to promising limited-release movies. Most notable was actor-director James Franco's "The Disaster Artist," which is playing on fewer than 900 screens but still cracked the top five at the box office this weekend. After debuting on 19 screens a week ago, Franco's acclaimed comedy about cult-fave filmmaker Tommy Wiseau expanded to 840 theaters on Friday and earned an estimated $6.4 million and fourth place on the chart. At $7,661 per venue, "Disaster" claimed the highest per-screen average of any movie in wide or almost-wide release this weekend.
Also cleaning up in limited release were several other awards-seeking films. "I, Tonya," which is earning raves for Margot Robbie as disgraced Olympic skater Tonya Harding, opened on just four screens but averaged $61,401 on each of them. "Lady Bird," which has a perfect 100 percent score at Rotten Tomatoes, expanded to 1,557 screens this weekend (up from 1,194 last week) and grossed another estimated $3.5 million, good for ninth place. Frances McDormand's "Three Billboards Outside Ebbing, Missouri" enjoyed a similar expansion, up 190 venues to 1,620, and was rewarded with an estimated $2.9 million and the No. 11 slot on the chart. Guillermo del Toro's "The Shape of Water," which premiered on two screens last week, expanded to 41 and earned an estimated $1.1 million, for a terrific $26,829 per-screen average.
"Darkest Hour," which is generating awards buzz for Gary Oldman's portrayal of Winston Churchill, jumped from four screens to 53 and earned an estimated $777,000, or a strong $14,660 per screen. "Call Me By Your Name," with its romance between Armie Hammer and Timothée Chalamet, is still playing in just nine theaters, but it averaged an impressive $32,345 at each of them, according to estimates. And Woody Allen's period drama "Wonder Wheel" expanded in its second week from five screens to 47, but that move yielded only an estimated $156,000, for a paltry per-screen average of $3,315.
All these movies are poised to expand nationwide over the next several weeks. Awards buzz, which starts with Monday's Golden Globe nominations, is likely to make most of these modestly-budgeted films profitable by the time the Oscars are handed out three months from now.
A special shout-out should go to A24, the relatively young independent distributor behind several current awards candidates, including "Disaster Artist," "Lady Bird," and "Saturday Night Live" hosts on consecutive weeks, and especially for drumming up viral interest in "Disaster," a movie about the making of a film (Wiseau's "The Room") that barely played in theaters in 2003 but whose Ed Wood-like levels of entertaining ineptitude earned Wiseau a fervent cult of puzzled-but-amazed fans.
Of course, all these movies will get upstaged during the final weeks of 2017 once 'Jedi' opens on December 15 and likely earns more in its first three days than all the movies currently playing have earned over the past two weekends. If 'Jedi' opens anywhere near the $248 million that "Star Wars: The Force Awakens" scored in its record-setting debut two years ago, then it will likely become the top-earning release of the year and go a long way toward helping a stumbling 2017 catch up with 2016's total earnings. Currently, 2017 is about 4 percent, or $420 million, behind the grosses earned at this point in 2016. "Jedi" may not be enough to close the gap (remember, at this point last year, "Rogue One: A Star Wars Story," which became 2016's top-grossing film, had yet to be released). Still, the annual-gross race may come down to the wire, and even if "Lady Bird" or "Disaster Artist" makes $50 million, that'll be a rounding error when it comes to calculating and comparing the total earnings of the past two years.
Still, this weekend's results suggests that several of this year's modestly-budgeted awards contenders are likely to become profitable box office successes on their own terms. And as "Disaster Artist" proves, a movie doesn't have to be a blockbuster -- or even profitable, or competently made -- to generate lasting fame, earn fans, and be talked about for years to come.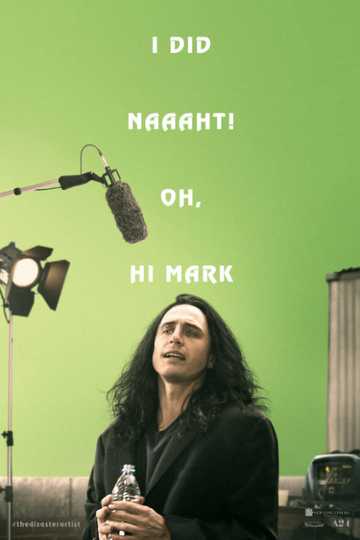 The Disaster Artist
An aspiring actor in Hollywood meets an enigmatic stranger by the name of Tommy Wiseau, the meeting leads the actor down a path nobody could have predicted; creating the worst movie ever made. Read More