 At a loss for what to watch this week? From new TV, we've got you covered.
New Video on Demand, Rental Streaming, and Digital
"Justice League"
DC's "Justice League" is ready to come home with you on Digital this Tuesday, February 13, then DVD, 4K Ultra HD Blu-ray Combo Pack, Blu-Ray 3D Combo Pack, and Blu-ray Combo Pack on March 13. The home release comes with several behind-the-scenes featurettes and bonus scenes. Head here for a full list, and to preview one Superman deleted scene.
"Coco"
Disney/Pixar never misses, and they did it again with this animated musical adventure, which first arrives on Digital and Movies Anywhere February 13, and then Ultra HD Blu-ray, DVD, and On Demand February 27. Each release is packed with extras, including deleted scenes, commentary, and behind-the-scenes featurettes. Get the full list.
"Three Billboards Outside Ebbing, Missouri"
Expect this somewhat controversial drama to pick up a few wins at the Oscars in March, including (probably) for actress Frances McDormand and supporting actor Sam Rockwell. The film is out on digital platforms February 13, then Blu-ray/DVD on February 27. Bonus features include the featurette "Crucify 'Em: The Making of Three Billboards" and the short film "Six Shooter."
"Mozart in the Jungle" Season 4 (Amazon Prime Original)
In Season 4 of Amazon Prime's Golden Globe and Emmy-winning series, "Hailey (Lola Kirke) and Rodrigo's (Gael Garcia Bernal) romance deepens as they go public with their relationship. As Rodrigo learns what it means to be a boyfriend, Hailey enters a competition in Japan to prove herself as a conductor. Will they be able to balance the demands between their careers and relationship or will it tear them apart?" Watch the trailer here, and see what happens when Season 4 premieres Friday, Feb. 16.
"Looking Glass"
Nicolas Cage and Robin Tunney star in this thriller available on VOD and iTunes this Friday, Feb. 16. "Ray must save his wife and himself from a gruesome secret connected to a motel and the strange people who visit there." Check out the trailer.
New on DVD and Blu-ray
"Wonder"
Jacob Tremblay, Julia Roberts, and Owen Wilson star in this heart-tugging family film available on DVD, Blu-ray, and On Demand February 13. Based on the best-selling book by R.J. Palacio, writer-director Stephen Chbosky shares the story of a boy named Auggie who inspires and teaches others that true beauty is found within.
Here's an exclusive look at one of the bonus features, focusing on "Hamilton" award-winner Daveed Diggs as Auggie's teacher Mr. Browne:"Roman J Israel, Esq."
Two-time Oscar winner Denzel Washington picked up another nomination for his role as the titular defense attorney in this legal thriller out on disc February 13. Colin Farrell co-stars in the film, which comes with three behind-the-scenes featurettes and eight deleted scenes.
***
"Everything Sucks!" Season 1 (Netflix Original)
Calling all '90s teens! Netflix's new coming-of-age-in-the-90s comedy starts with 10 half-hour episodes this Friday, Feb. 16. "You can't fast forward high school. Head back to 1996 with Everything Sucks!" Here's the trailer:"Irreplaceable You" (Netflix Original)
In case you forgot, Valentine's Day is this week. So here's a romantic dramedy streaming February 16, co-starring Christopher Walken, Kate McKinnon, Steve Coogan, and Jacki Weaver. "Newly engaged Abbie (Gugu Mbatha-Raw) and Sam (Michiel Huisman) have been the love of each other's lives since childhood. But when the future they envisioned together takes a tragic turn, their relationship is put to the ultimate test.""The Joel McHale Show with Joel McHale" (Netflix Original)
It was only a matter of time before "The Soup" host Joel McHale got another show. On Sunday, Feb. 18 he launches his new weekly topical satire series, with celeb guests, comedy sketches, and crazy video clips from the Internet."Love Per Square Foot" (Netflix Original)
Speaking of Valentine's Day, this Netflix original film from India actually premieres on the big day itself -- Wednesday, Feb. 14. So consider streaming it with your special someone ... even if your special someone is chocolate, the most special someone of all. "Individually, Sanjay and Karina don't earn enough to be able to buy a home, so they enter into a marriage of convenience."
TV Worth Watching
Winter Olympics 2018 (Daily on NBC)
All Olympics, all the time! The PyeongChang 2018 Olympic Winter Games continue until Sunday, Feb. 25 on NBC. Head here for NBC's full schedule of events.
"The Bachelor Winter Games" (Tuesday on ABC at 8 p.m.)
This week is mostly Olympics and Olympics counter-programming -- including CBS's "Celebrity Big Brother" and ABC's "Bachelor" version of the games. In these "Bachelor Winter Games," favorites from the U.S. version of "The Bachelor and "The Bachelorette" compete in winter-themed challenges alongside Bachelor/ette stars from Canada, U.K., Sweden, Australia, Finland, Japan, New Zealand, Switzerland, and China. Here are ABC's details on the February 13 premiere: "The participants meet in the streets of Vermont for a celebration featuring appearances by Trista and Ryan Sutter, Hannah Storm and Ashley Brewer; Ruthie Collins performs; the singles move into the villa."
Want more stuff like this? Like us on Facebook.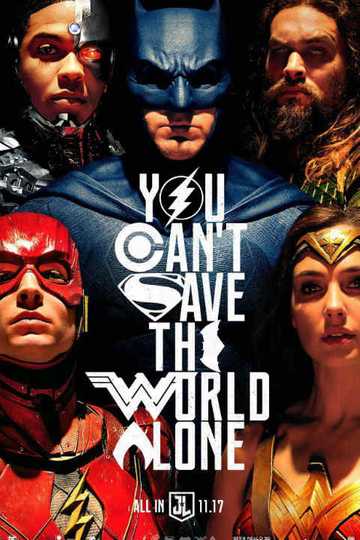 Justice League
Fuelled by his restored faith in humanity and inspired by Superman's selfless act, Bruce Wayne and Diana Prince assemble a team of metahumans consisting of Barry Allen, Arthur Curry and Victor Stone to... Read More