 At a loss for what to watch this week? From new TV, we've got you covered.
New Video on Demand, Rental Streaming, and Digital
"The Shape of Water"
Prediction: This exquisite fantasy will be a big winner at the Oscars, giving director Guillermo del Toro a statue, and possibly also earning Best Picture -- unless "Three Billboards" (see below) picks it up instead. Find out if that's right on Sunday, and watch the film on digital/Movies Anywhere this Tuesday, Feb. 27. It will be available on Blu-ray, DVD, and 4K Ultra HD starting March 13. Extras include several making-of featurettes and "Guillermo del Toro's Master Class."
"Call Me By Your Name"
Nominated for four Oscars -- including Best Picture, and Best Actor in a Leading Role for Timothée Chalamet -- this romantic drama debuts on digital February 27, and on Blu-ray/DVD on March 13. Extras include the music video for the Oscar-nominated song "Mystery of Love" by Sufjan Stevens, plus audio commentary and two featurettes.
"I, Tonya"
Nominated for three Oscars, this darkly funny look at the life of controversial figure skater Tonya Harding (Margot Robbie) arrives on Digital and Movies Anywhere on Friday, March 2. It'll be available on Blu-ray, DVD, and On Demand March 13. Extras include deleted scenes; feature commentary with director Craig Gillespie; and several behind-the-scenes featurettes.
"Ferdinand" The giant bull with a big heart can be added to your digital collection on Movies Anywhere starting February 27. It'll arrive on Blu-ray/DVD/4K Ultra HD on March 13. There are several cute bonus featurettes, including "Ferdinand's Guide to Healthy Living" with John Cena.
"Pitch Perfect 3"
The Bellas of Barden University are back for round 3 in this musical closing act available on digital March 1, and Blu-ray/DVD/On Demand/Movies Anywhere on March 20. Bonus features include all-new musical performances, a gag reel, and deleted scenes.
"The Looming Tower" (Hulu Original)
This Hulu original miniseries, based on the Pulitzer-Prize winning book of the same name, premieres February 28. "The Looming Tower" traces the rising threat of Osama Bin Laden and Al-Qaeda in the late 1990s, and explores how the rivalry between the FBI and CIA during that time may have inadvertently set the path for the tragedy of 9/11. The series stars Tahar Rahim, Jeff Daniels, Peter Sarsgaard, Wrenn Schmidt, Michael Stuhlbarg, Bill Camp, and Alec Baldwin.
"Midnighters"
This horror thriller premieres in theaters and on VOD and Digital HD on Friday, March 2. "Midnight, New Year's Eve: when all the hopes of new beginnings come to life – except for Lindsey and Jeff Pittman, whose strained marriage faces the ultimate test after they cover up a terrible crime and find themselves entangled in a Hitchcockian web of deceit and madness."
New on DVD and Blu-ray
"Coco" Disney-Pixar's animated wonder won the Golden Globe and is currently the frontrunner to win the Oscar for Animated Feature. You can check it out at home on Blu-ray, DVD, and On Demand Tuesday, Feb. 27. The Blu-ray is loaded with behind-the-scenes bonus features, including audio commentary, deleted scenes, and several featurettes.
"Darkest Hour"
Gary Oldman is darn near a lock to win Best Actor in a Leading Role for his transformation into Winston Churchill for this World War II drama. "Darkest Hour" was also nominated for Best Picture, Makeup and Hairstyling, Costume Design, Cinematography, and Production Design. The film arrives on Blu-ray, DVD and On Demand February 27. The discs come with feature commentary from director Joe Wright, and two behind-the-scenes making-of featurettes.
Here's an exclusive clip from the extras, featuring the make-up designer, costume designer, filmmakers, and actress Lily James discussing Gary Oldman's transformation into Winston Churchill:"Three Billboards Outside Ebbing, Missouri"
"Three Billboards" was nominated for seven Oscars and is very likely to pick up at least two: Best Actress in a Leading Role for Frances McDormand, and Best Actor in a Supporting Role for Sam Rockwell. It's also a major contender for Best Picture. The darkly comic, and violent, crime drama arrives on Blu-ray, DVD, and 4K Ultra HD Blu-ray on February 27. Extras include the featurette "Crucify 'Em: The Making of Three Billboards," and the short film "Six Shooter.
***
TV Worth Watching
The 90th Academy Awards (Sunday on ABC at 8 p.m. EST) It's Oscar night! The 2018 Academy Awards, hosted for a second time in a row by Jimmy Kimmel, will air March 4. Expect the usual red carpet coverage ahead of time, and all day over on E! Here's the full list of 2018 Oscar nominations. If you want a refresher, here's who won last year. (Remember that fun "Moonlight"/"La La Land" disaster? Good times!) Don't forget that the 2018 Razzie "winners" will be revealed on Saturday, the day before the Oscars.
"Good Girls" (Monday on NBC at 10 p.m.)
A new season of "The Voice" starts February 26 at 8 p.m., and afterward the network premieres this new crime dramedy starring Christina Hendricks, Retta, and Mae Whitman. Here's the synopsis for the first episode: "Three desperate suburban moms find themselves in hot water after they decide to rob a supermarket and find out that it's already the territory of a local gang."
"Living Biblically" (Monday on CBS at 9:30 p.m.)
CBS's new sitcom follows film critic Chip (Jay R. Ferguson), who decides to live in strict accordance with the Bible after his best friend suddenly dies. "No lying, no taking God's name in vain, but also, no mixing fabrics, and an exhortation to stone adulterers? Chip's confused, but cheerfully determined." Lindsey Kraft plays his tolerant but unimpressed atheist wife. The series also stars Ian Gomez, David Krumholtz, Tony Rock, and Camryn Manheim.
This week marks the start of a new month, and you know what that means: A bunch of new titles will be arriving on Netflix, and several more will be leaving.
Here's what's arriving on March 1 alone:
"300" (2006)
"21 Thunder": Season 1 (Netflix Original)
"2307: Winter's Dream" (2017)
"Adel Karam: Live from Beirut (Netflix Original)
"Adventureland" (2009)
"Algo Muy Gordo" (2017)
"Alpha and Omega" (2010)
"Battle Drone" (2017)
"Beerfest" (2006)
"Casino" (1995)
"Cruel Intentions" (1999)
"Cruel Intentions 2" (2001)
"Cruel Intentions 3" (2004)
"Deathgrip" (2017)
"Forgetting Sarah Marshall" (2008)
"Ghostbusters"
"Ghostbusters 2" (1989)
"Gridiron Gang" (2006)
"Guess Who" (2005)
"Hostage" (2005)
"I Am Number Four" (2011)
"I Now Pronounce You Chuck and Larry" (2007)
"Jackass: Number Two" (2006)
"Land Gold Women" (2011)
"Law & Order: Special Victims Unit": The Eighteenth Year
"Martian Child" (2007)
"Moon" (2009)
"People Like Us" (2012)
"Revolutionary Road" (2008)
"Stuart Little 3: Call of the Wild" (2005)
"The Brothers Grimm" (2005)
"The Bucket List" (2007)
"The Descent" (2005)
"The Descent: Part 2" (2009)
"The Experiment" (2010)
"The Fifth Estate" (2013)
"The Gift" (2015)
"The Lazarus Project" (2008)
"True to the Game" (2017)
"Untraceable" (2008)
"Up in the Air" (2009)
"Wet Hot American Summer" (2001)
"Women at War 1939-1945" (2015)
"Derren Brown: The Push" (Netflix Original)
Before you start your March binge, consider this controversial item still up for grabs as of Tuesday, Feb. 27:
"Psychological Illusionist Derren Brown makes his much-anticipated U.S. debut with this groundbreaking special. In 'The Push, 'Brown exposes the psychological secrets of obedience and social compliance. He expertly lifts the lid on the terrifying truth that, when confronted with authority, our natural instinct is to unflinchingly obey without question – to such an extent that even the most moral people can be made to commit the most horrendous acts, simply because they are told to do so."
"Flint Town" Season 1
On Friday, March 2, Netflix is releasing this new original documentary series, which was filmed over a two-year period. Filmmakers embedded with cops in Flint, Michigan reveal a department grappling with volatile issues and untenable conditions. Watch the story of Flint through the eyes of the city's police department, as the docuseries explores "the struggles of living in a constant state of emergency and the team of underdogs fighting against all odds to save the city."
Want more stuff like this? Like us on Facebook.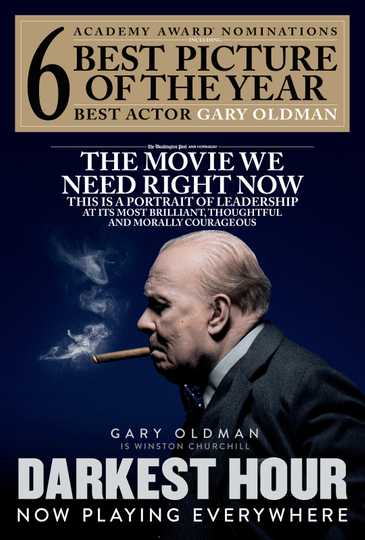 Darkest Hour
A thrilling and inspiring true story begins on the eve of World War II as, within days of becoming Prime Minister of Great Britain, Winston Churchill must face one of his most turbulent and defining trials:... Read More The Shape of Water
An other-worldly story, set against the backdrop of Cold War era America circa 1962, where a mute janitor working at a lab falls in love with an amphibious man being held captive there and devises a plan... Read More