Box Office: 'Black Panther' Tops $500 Million, Dominates 'Red Sparrow,' 'Death Wish'
LOS ANGELES, March 4, (Variety.com) - Disney-Marvel's "Black Panther" is continuing its super-heroic run, grossing a stunning $501.1 million in North America in only 17 days and becoming the 10th highest grosser of all time.
"Black Panther," starring Chadwick Boseman, dominated domestic moviegoing in its third weekend with $65.7 million at 4,084 locations -- the third-highest weekend of all time after "Star Wars: The Force Awakens" at $90.2 million and "Avatar" at $68.5 million.
"Black Panther" is now the second-highest grossing Marvel movie of all time at the domestic box office, surpassing "Avengers: Age of Ultron" this weekend at $459 million and trailing only "The Avengers" at $623.4 million. "Black Panther" has a realistic shot at reaching that level in the coming weeks and may eventually top "Jurassic World" at $652 million and "Titanic" at $659 million for the third highest domestic total of all time.
Two new titles opened with moderate results that might have been higher without a must-see title like "Black Panther" in multiplexes. Jennifer Lawrence's spy thriller "Red Sparrow" launched with $17 million at 3,056 sites for Fox and Bruce Willis' "Death Wish" debuted with $13 million at 2,847 venues for MGM.
Warner Bros.' second weekend of comedy thriller "Game Night" followed in fourth with $10.7 million from 3,502 sites, edging Sony's fourth weekend of CGI-live action "Peter Rabbit" with $10 million at 3,607 locations. "Peter Rabbit" has connected with family audiences for $84 million in its first 24 days.
Paramount's second weekend of "Annihilation" finished in sixth with $5.7 million at 2,112 venues, followed by Sony's 11th weekend of its sturdy action comedy "Jumanji: Welcome to the Jungle" with $4.5 million at 2,313 sites. "Jumanji" has now grossed $393.2 million in 75 days.
Thanks to "Black Panther" and "Jumanji," overall domestic box office for 2018 is up an impressive 10.9 percent to $2.12 billion, according to comScore.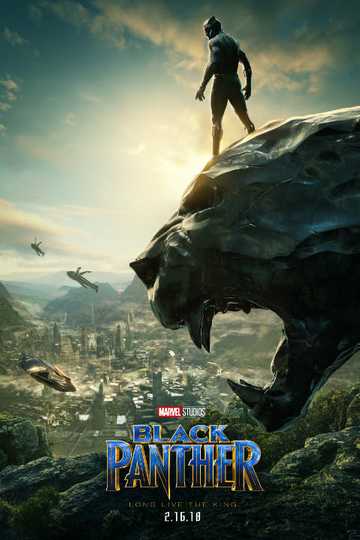 "Long live the king."
2 hr 15 min
Feb 16th, 2018
King T'Challa returns home to the reclusive, technologically advanced African nation of Wakanda to serve as his country's new leader. However, T'Challa soon finds... Read the Plot