It'll be a bit longer before moviegoers can see Chadwick Boseman in "21 Bridges."
STX and AGBO have moved the upcoming cop thriller from its previous Sept. 27 release date to Nov. 22, Deadline reports. The news comes less than two weeks after the debut of the latest trailer during Comic-Con, and the decision was reportedly made in the interim. "21 Bridges" will now share a release date with "A Beautiful Day in the Neighborhood," "Frozen 2," and "Rhythm Section," per Box Office Mojo.
The film centers on an NYPD detective played by Boseman who goes on the hunt for two cop killers. He has to keep the killers from escaping Manhattan, which means closing the island's 21 bridges (hence the title). Along the way, the lines become blurred between who's doing the hunting and who's being hunted.
Boseman stars in the film alongside Sienna Miller, Stephan James, Keith David, Taylor Kitsch, and J.K. Simmons. It is directed by Brian Kirk from a screenplay by Adam Mervis. Boseman produced with Joe and Anthony Russo, Logan Coles, and MWM Studios. Mike Larocca of AGBO executive produced.
"21 Bridges" now opens Nov. 22.
[via: Deadline]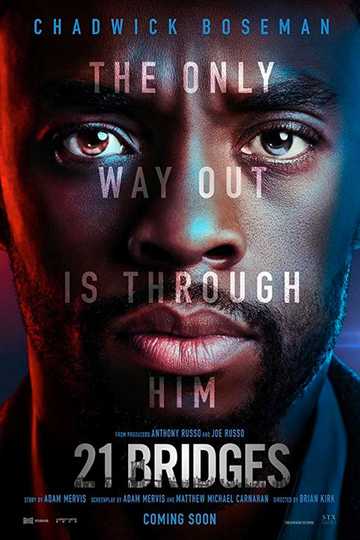 21 Bridges
An embattled NYPD detective, is thrust into a citywide manhunt for a pair of cop killers after uncovering a massive and unexpected conspiracy. As the night unfolds, lines become blurred on who he is pursuing,... Read More