'Black Adam' Writer Adam Sztykiel to Make 'Wonder Twins' Movie for HBO Max
Alien siblings Zan and Jayna will activate their powers on screen.
After years of pop culture references and a few appearances on other characters' shows, DC Comics' Wonder Twins are getting their own movie.
The Hollywood Reporter is reporting that Adam Sztykiel, one of the writers on 'Black Adam', will script and direct the movie for HBO Max.
Alien siblings Zan and Jayna, unlike many of their comics stablemates, made their debut on TV in Hanna Barbera animated series 'The All-New Super Friends Hour' in 1977. Created by Norman Maurer, they went on to appear on other series before making their debut in comic books based on the show and became part of the wider DC Universe.
They're best known for their catchphrase, "Wonder Twins power, activate!" and touching hands, leading Jayne to transform into any animal and Zan into any form of water. Which might not seem like the greatest combo when you are extraterrestrial crime fighters, but they made it work. And let's not forget – steam can give you a nasty burn.
Oh, and did we mention they have a monkey pal called Gleek? Yes, they have a monkey pal. Called Gleek! Whether he makes the transition to the new movie is anyone's guess, but we're guessing Wonder Twins fans will want to see that happen.
It did not stop, however, many other shows and comedians having a great deal of fun at their expense, and they've rarely been given major attention, popping up on the likes of cartoon series 'Teen Titans Go!' and live-action show 'The Flash'.
Now, though, Sztykiel is the person who will look to bring them up to date even further and make them work on their own. But as is usual for a film like this, the plot is being kept locked behind a shield of secrecy.
Sztykiel, who started as an actor but has switched to writing, has scripted movies including 'Due Date', 'Rampage' and 2020's animated adventure 'Scoob'. 'Black Adam', starring Dwayne Johnson as the titular antihero, will be in theaters on July 29th. He created the TV series 'Undateable', which ran for three seasons.
This latest movie will be produced by Marty Bowen and Wyck Godfrey of Temple Hill, which was behind the 'Twilight' and 'The Maze Runner' franchises, among several others.
HBO Max is fast becoming an alternate outlet for DC movies – the 'Batgirl' movie starring 'In the Heights' Leslie Grace is headed directly there, while 'Blue Beetle', featuring 'Cobra Kai's Xolo Maridueña is switching from the service to a theatrical release, but will end up there after that.
Also on the theatrical side, Warner Bros. and DC have the likes of 'The Batman' (March 4), 'The Flash' (November 4), 'Aquaman and the Lost Kingdom' (December 16) and, on the even more family-friendly side of things, 'DC League of Super-Pets, due in theaters on May 20.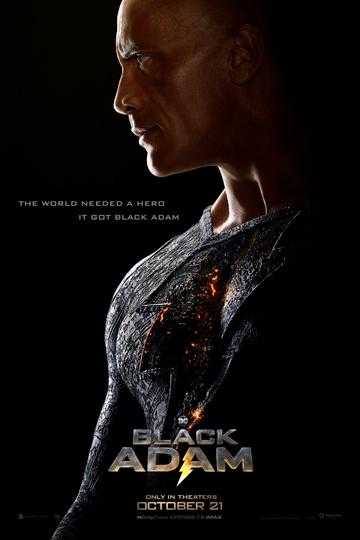 "The world needed a hero. It got Black Adam."
Nearly 5,000 years after he was bestowed with the almighty powers of the Egyptian gods—and imprisoned just as quickly—Black Adam is freed from his earthly tomb,... Read the Plot