'DC League of Super-Pets' is a Funny and Heart-Warming Animated Movie
With strong performances from Dwayne Johnson and Kevin Hart, the movie is filled with DC Easter eggs and a message about the love between people and their pets.
The new animated movie 'DC League of Super-Pets,' which was written and directed by Jared Stern ('The Lego Batman Movie'), opens in theaters on July 29th.
When a group of animals receive super powers, Lex Luthor's (Marc Maron) guinea pig Lulu (Kate McKinnon) captures the Justice League and attacks Metropolis. Krypto (Dwayne Johnson), Superman's (John Krasinski) dog, must now learn to work with his new friend Ace (Kevin Hart), in order to rescue his owner.
With the help of a turtle called Merton McSnurtle (Natasha Lyonne), Chip the squirrel (Diego Luna), and a pig named PB (Vanessa Bayer), Krypto must team with the other Super-Pets to defeat Lulu and save Superman, Batman (Keanu Reeves) and the rest of the JLA.
The voice cast also includes Olivia Wilde as Lois Lane, Jameela Jamil as Wonder Woman, Jermaine Clement as Aquaman, John Early as The Flash, Daveed Diggs as Cyborg, Dascha Polanco as Green Lantern, and Keith David as Krypto's father.
The result is a really fun, funny, and emotionally heart-warming animated movie filled with DC Easter eggs that is really about the love we share for our pets, and the unconditional love they give back to us.
The movie begins with a new origin story for Superman's (Krasinski) dog Krypto (Johnson), which shows that Jor-El sent him with baby Kal-El to Earth to protect him while Krypton was exploding. Years later, Kal-El is all gown-up now living in Metropolis as Clark Kent by day and Superman by night, fighting crime with Krypto as his partner.
We soon meet Ace (Hart), a dog living with other animals at an animal shelter. While Ace devises a plan for he and the other animals to escape, Lulu (McKinnon), a guinea pig and former pet of Lex Luthor (Maron), utilizes orange Kryptonite to give herself and the other animals super powers. Using an army of mutated guinea pigs as her minions, she captures the Justice League and begins to destroy Metropolis.
With Superman missing, Krypto teams with the now super-powered Ace and his friends to form the League of Super-Pets in order to save the Justice League and stop Lulu. But Krypto only knows how to work with Superman and must now learn from his new friends how to be a team player.
'DC League of Super-Pets' works on several different levels and is a thoroughly enjoyable animated movie on all fronts. For kids, there is a lot of humor, lovable characters and fantastic animation. For adults, there is a sweet and sophisticated story about the unconditional love that our pets give us. And for DC fans, there are enough comic book Easter eggs and deep cut characters to make your head spin.
Writer and director Jared Stern, who helped pen the equally excellent 'The Lego Batman Movie,' perfectly captured the humor and fun of these classic DC characters that are pulled from different points of the cannon.
For example, Superman has a 1940's Max Fleischercartoons inspired costume, but the character resembles Christopher Reeve. Aquaman has his 90's era hook, while the filmmakers chose to include the recent version of Green Lantern from the comics, Jessica Cruz. All of this leads to a well-balanced and exciting animated version of the Justice League.
The voice cast is excellent, including actor and comedian Marc Maron, who plays a very realistic version of Lex Luthor. While her role is somewhat limited, Jameela Jamil plays an excellent version of as Wonder Woman, one that I wouldn't mind seeing in live-action someday.
And speaking of actors we'd like to see reprise their roles in live-action, can someone please make a Batman movie starring Keanu Reeves already! The 'John Wick' actor is very funny but also very emotional playing an extremely depressed and haunted version of the Caped Crusader.
Kate McKinnon is also at her best in this film portraying the hilarious and absolutely evil Lulu. The actress is clearly having a lot of fun in her role, and the character is a great advisory for both the animal and human heroes in the movie.
But the film wouldn't work quite as well as it did if not for the voice work of Dwayne Johnson and Kevin Hart. The two actors have worked together before, and have great chemistry on and off the set, which is apparent watching the film and adds to their characters' relationship.
Hart, who is certainly funny in the movie, gives a more layered and emotional performance than we've seen from him in the past, which works really well for his character. You understand by the end of the movie why Ace is destined to partner with Batman, and the film gives a new origin story for himself and the other previously established DC animal characters in the movie.
Johnson, who seems to be taking over DC with 'Black Adam' headed to theaters in October, was the perfect actor to play Krypto. His voice is familiar and already associated in audience's minds with heroics, doing half of the actor's job for him before he utters his first line. But he also brings Krypto to life in a way we haven't seen before, showing off his fears as much as his strength, while emphasizing his unconditional love and faithfulness to Superman.
In the end, if you take the DC elements out of the film, you still have an extremely charming and funny animated movie about the unconditional love we have for our pets and they have for us. What 'DC League of Super-Pets' does best is remind us that every dog is a superhero!
'DC League of Super-Pets' receives 4 out of 5 stars.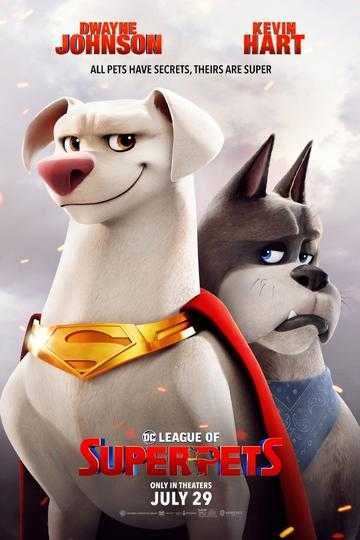 "Sit, stay, save the world."
1 hr 45 min
Jul 29th, 2022
Showtimes & Tickets
Dwayne Johnson stars as the voice of Krypto the Super-Dog in Warner Bros. Pictures' animated action adventure feature film "DC League of Super-Pets," from director... Read the Plot