New 'Jurassic World: Dominion' "Prologue" Teaser Gives First Look at the History of Dinosaurs
The new teaser trailer for the upcoming sixth installment of the 'Jurassic Park' franchise called 'The Prologue" features dinosaurs in their natural habitat over 65 million years ago for the first time ever in a 'Jurassic Park' movie.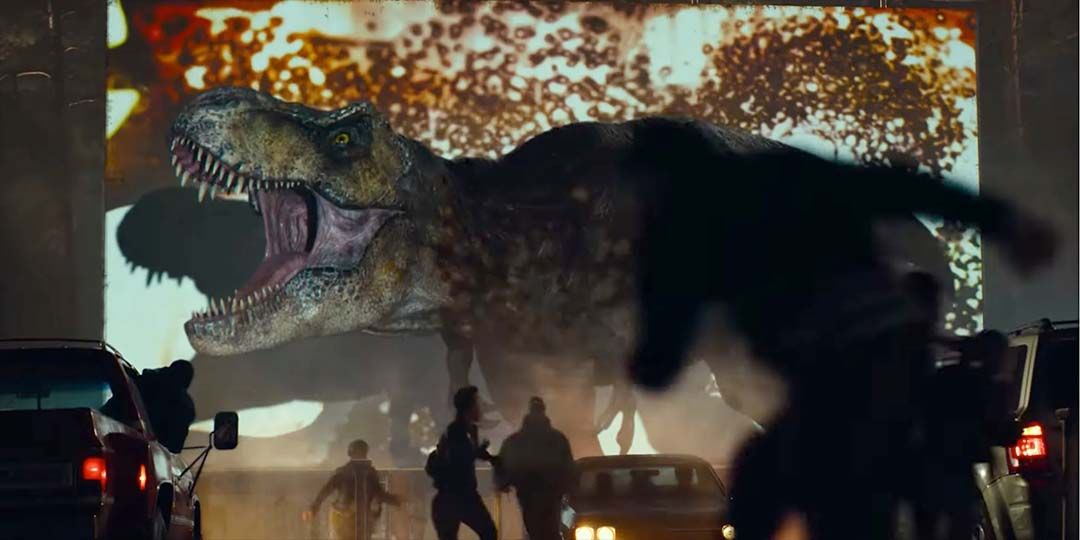 Universal Pictures has released an online teaser for the upcoming 'Jurassic World Dominion,' entitled 'The Prologue.' The trailer, which was originally released on IMAX screens with 'F9' last summer does something no other 'Jurassic Park' movie has ever done, depict dinosaurs in their natural habitat over 65 million years ago, before jumping to present day to see a T. rex terrorizing a drive-in movie theater.
Very little is known at this point about the plot of 'Dominion,' except that it will pick up where 'Jurassic World: Fallen Kingdom' left off, with cloned dinosaurs running wild through our modern society. Filmmaker Colin Trevorrow, who directed 2015's 'Jurassic World,' is set to return for 'Dominion' after sitting out 'Fallen Kingdom.'
The Prologue is five and a half minutes long and begins over 65 million years ago, showing several types of ancient species living together in peace… that is, until we see a T. rex attack another T. rex and kill it by biting its neck. We then see what appears to be a mosquito bite the dead T. rex and fly away, which is of course what led to the dinosaur cloning we see in the first film.
The trailer then jumps ahead 65 million years, to what appears to be present day, as a helicopter chases a T. rex to a drive-in movie theater, which is playing a double feature of 'American Graffiti' and 'Flash Gordon.' The drive-in theaters' double feature and the retro clothes on the theater patrons might lead some to believe that this scene takes place in the early 80s, before the events of the first 'Jurassic Park, but that theory is shot down when Chris Pratt appears, indicating that this is present day. It's also worth mentioning that the movies shown at the theater could be a nod to original 'Jurassic Park' director Steven Spielberg, who's best friend, George Lucas, wrote and directed 'American Graffiti'.'
During the retro "Let's all go to the lobby" animated commercial that used to play before movie screenings, terror erupts as the T. rex arrives. Most of the patrons beginning screaming and running for their life, while others don't even notice the dinosaur because they're focused on watching the movie screen. Then we see our hero, Chris Pratt's Owen Grady, in the helicopter taking a shot at the T. rex with a rifle. The tranquilizer he shoots misses the dinosaur and hits the car of an unsuspecting driver trying to escape the dinosaur massacre before fading to black.
The new teaser begins with the Universal Pictures logo, making one think that the footage from 65 million years ago might be the way the movie actually starts. However, the drive-in theater footage could appear later in the film, unless this scene is our first introduction to Owen Grady after the events of 'Fallen Kingdom.' Since 'Dominion' is set to feature a world dominated by dinosaurs and humans alike after the events of 'Fallen Kingdom,' it makes sense to begin the film like this, contrasting a world before humans to now, when humans and dinosaurs will be forced to live together.
The teaser trailer also gives us our first look at seven new species of dinosaurs never before seen in a 'Jurassic Park' movie, which was recently confirmed by Trevorrow to Empire Magazine. "We have our first feathered dinosaur, the Oviraptor," the director said to the British film publication. "I feel like that's going to be a bit of a headline for those who care about paleontological accuracy. Another one, with feathers, is the Moros intrepidus. That one showed up maybe two years ago. It probably popped up into your feed, that people found a tiny, T-Rex-like feathered dinosaur. That was one of the quickest turnarounds that we've had, from discovery to putting it on screen."
'Jurassic World: Dominion' is scheduled for release on June 10th, 2022 and will be the third film in the 'Jurassic World' sequel series, which began with Trevorrow's 'Jurassic World' in 2015. That film was at one time the third highest grossing movie of all time, and currently is the sixth highest grossing film of all time following 'Avatar,' 'Avengers: Endgame,' 'Titanic,' 'Star Wars: The Force Awakens,' and 'Avengers: Infinity War.' The series continued with director J.A. Bayona's 'Jurassic World: Fallen Kingdom' in 2018, which is currently the fifteenth highest grossing movie of all time. But 'Dominion' will also feature the return of Jeff Goldblum's fan-favorite character Dr. Ian Malcolm, after a brief cameo in 'Fallen Kingdom,' as well as Sam Neill and Oscar winner Laura Dern reprising their roles as Dr. Alan Grant and Dr. Ellie Sattler, respectively, for the first time since 'Jurassic Park III.'
The original film series, which is based on author Michael Crichton's 1990 novel of the same name, began in 1993 with 'Jurassic Park,' which was directed by Steven Spielberg. The film was a massive hit and went on to earn over a billion dollars at the box office and was selected in 2018 for preservation in the United States National Film Registry by the Library of Congress for being "culturally, historically, or aesthetically significant." Spielberg returned in 1997 to direct 'The Lost World: Jurassic Park,' which was based on Crichton's sequel novel. Goldblum and Richard Attenborough, who played Dr. John Hammond, were the only original cast members to return, and were joined by Julianne Moore and Vince Vaughn. The original trilogy ended in 2001 with the third installment, 'Jurassic Park III.' There was no Goldblum this time around, but Neil and Dern did return, along with new cast members William H. Macy and Téa Leoni.
In addition to Chris Pratt, Jeff Goldblum, Sam Neill, and Laura Dern returning for 'Jurassic Park: Dominion', Bryce Dallas Howard and B.D. Wong are also set to reprise their franchise roles as Claire Dearing and Dr. Henry Wu, respectively, while Campbell Scott will join the series as Dr. Lewis Dodgson, a character briefly seen in the first 'Jurassic Park' portrayed by actor Cameron Thor. Actors Omar Sy ('X-Men: Days of Future Past'), Scott Haze ('Venom'), Daniella Pineda ('Cowboy Bebop'), and Justice Smith ('Detective Pikachu') are also all scheduled to appear.
You can watch 'The Prologue' teaser trailer for 'Jurassic World: Dominion' below: