Latest 'Justice League' Trailer Has an Inspiring Message of Unity
The latest "Justice League" trailer is as uplifting as it is action-packed.
Warner Bros. Pictures released the new preview on Sunday, and it has a surprisingly moving message. The trailer shows its DCEU superheroes learning to work together in the face of evil, including issues that are all too real.
"Violence, acts of war, and terrorism are all on the rise," we hear in the trailer.
The line refers specifically to the time since the death of Superman (Henry Cavill) in "Batman v Superman: Dawn of Justice," but the threats mirror the ones we see in real life, as well. Therefore, it's nice to see the characters come together, however reluctantly they are in the beginning.
"Divided, we are not enough," Batman (Ben Affleck) says as we watch them join forces to save the world.
Watch Batman, Wonder Woman (Gal Gadot), Aquaman (Jason Momoa), The Flash (Ezra Miller), and Cyborg (Ray Fisher) take on evil below.
"Justice League" hits theaters on Nov. 17.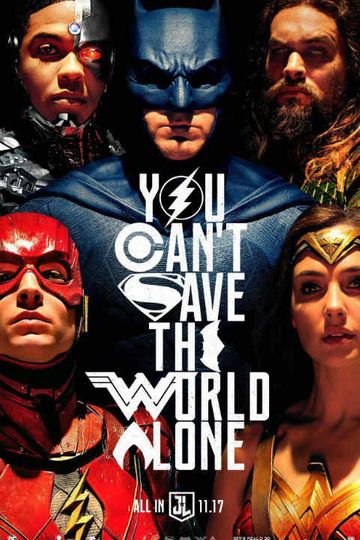 "You can't save the world alone"
Fuelled by his restored faith in humanity and inspired by Superman's selfless act, Bruce Wayne and Diana Prince assemble a team of metahumans consisting of Barry... Read the Plot