'Doctor Strange in the Multiverse of Madness' is Superhero Horror at its Best!
Director Sam Raimi delivers a scary superhero movie that has fun exploring Marvel's multiverse.
Opening in theaters on May 6th is the latest MCU movie and sequel to 2016's 'Doctor Strange' entitled, 'Doctor Strange in the Multiverse of Madness.' Directed by Sam Raimi ('Evil Dead II,' 'Spider-Man') the new film once again stars Benedict Cumberbatch as the title character and follows the events of 'Spider-Man: No Way Home' and the Disney+ series 'WandaVision' as Strange must stop Scarlet Witch (Elizabeth Olsen) from destroying the multiverse.
In addition to Cumberbatch and Olsen, the cast also includes Benedict Wong as Wong, Chiwetel Ejiofor as Karl Mordo, Rachel McAdams as Christine Palmer, and Xochiti Gomez as new MCU character America Chavez. The result is a strong sequel that surpasses its predecessor and transcends the genre by introducing horror elements into the MCU. Sam Raimi delivers one of his best films, which is anchored by excellent performances from Benedict Cumberbatch and Elizabeth Olsen.
The movie begins with Dr. Stephen Strange (Cumberbatch) having a dream of helping a mysterious young girl escape from a demon. He awakes only to see the same girl running from a monster in the streets of New York. Strange saves the girl and soon learns that she is from another universe and that her name is America Chavez (Gomez). She has the power to move through the multiverse, and the demon chasing her is trying to steal her powers.
Strange goes to Wanda Maximoff (Olsen) for help, only to find that she is the "demon" chasing Chavez and wants her power to find her children who "disappeared" after the events of 'WandaVision.' In order to stop the Scarlet Witch, Strange and Chavez travel through the multiverse and meet alternate versions of Strange, Christine Palmer (McAdams), Karl Mordo (Ejiofor), and the Illuminati, which is an Avengers-level team within the multiverse comprised of new and different versions of Marvel characters.
Without giving anything away, the Illuminati scenes are some of the best in the film and feature real surprises for fans. The actors that play different versions of characters they've played before are fun to watch in these new roles, while the actors playing characters we haven't seen in the MCU previously, are all perfectly cast and have moments to shine. In fact, the Illuminati is a team I would love to see back in the MCU again, even if it is just on an episode of Disney+'s 'What If …?'
As always with Marvel movies, there are two end credit scenes, and I won't give either away. But I will say that the mid-credit scene features an A-list actress joining the MCU as a new Marvel character, and the end credit scene is just for laughs.
What elevates this film from the original is definitely the vision of master filmmaker Sam Raimi. The creator of 'The Evil Dead' series, as well as the man behind the first 'Spider-Man' trilogy, Raimi clearly has a love for the source material, he actually name-dropped Doctor Strange in 'Spider-Man 2.' Obviously, he also has a gift for making scary movies, and was able to push the horror in this film in a way he could not with the 'Spider-Man' films. Raimi is also a master at mixing horror and comedy, as seen in 'Army of Darkness,' and gets to do that a bit in this movie with a run-on gag featuring his 'Evil Dead' star Bruce Campbell.
Raimi fans are really going to enjoy this movie and will see his signature shots and camera movements all over the film. But the director also nicely blends his directing style with the material, the already established tone of the MCU, and the advanced visual effects that were not available when he began his career. Composer Danny Elfman's score also adds to the horror-vibes of Rami's film and its dark tone.
The script by Michael Waldron is good and covers a lot of ground quickly. One complaint I do have, is that the basic plot is just too simple. "Strange has to stop Wanda while traveling through the Multiverse to save America Chavez," a character he just met, by the way. But it does work and delivers fun characters and set pieces along the way.
Another downside to the movie is that it's not really a follow up to 'Spider-Man: No Way Home' as previously believed. In fact, I think it's only referenced once. The movie is really a follow up to the Disney+ series 'WandaVision' and I fear that if you didn't see that show, some of Wanda's motivations in the movie may be lost on you. However, the film does work hard to make you understand what happened to her and why she'd behaving this way, as misguided as it may be.
Elizabeth Olsen first played Wanda Maximoff in 'Avengers: Age of Ultron' and at the time it seemed like Marvel didn't really know what to do with the character. But thanks to her relationship with Vision, she really grew through the latter Avengers films and has come into her own after the series and now with 'Multiverse of Madness.'
Scarlet Witch is a full-on villain now and Olsen plays her well, with true conviction yet an emotionally vulnerable but also somewhat relatable side. It's unclear where Marvel will take the character from here, and whether a redemption ark is in her future, but Olsen deserves credit for creating a truly memorable MCU character.
'Multiverse of Madness' marks Benedict Cumberbatch's sixth time playing Doctor Strange on screen and with Iron Man gone, is now one of the premiere heroes in the Marvel Universe. While the first 'Doctor Strange' only gave a taste of the character, he's grown through his experiences in the Avengers and Spider-Man movies and is at his best when sparring with fellow heroes, which this film includes quite a bit. Cumberbatch is charming, funny, and believable in the role, giving one of his best performances yet as the character. The actor also had the task of playing different versions of his character and gives each one a unique spin.
In the end, 'Doctor Strange in the Multiverse of Madness' is a really fun and unique Marvel movie, which expands the genre by mixing horror with heroes. The film succeeds in large part thanks to Sam Raimi's unique style, the horror elements, the multiverse concept, Benedict and Olsen's strong performances and the surprise cameos.
'Doctor Strange in the Multiverse of Madness' gets 4.5 out of 5 stars.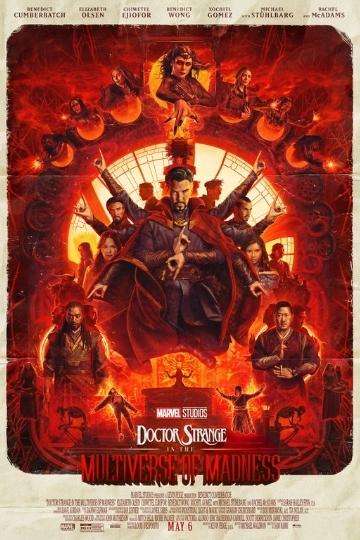 "Enter a new dimension of Strange."