'The Adam Project' is a fresh and fun movie with winning performances from Ryan Reynolds and the entire cast.
Director Shawn Levy delivers his best film yet, based on an entertaining and original screenplay that pulls influences from 'Back to the Future' and 'Field of Dreams.'
Premiering on Netflix beginning March 11th is the new time-traveling movie 'The Adam Project,' from 'Free Guy' director Shawn Levy. The film stars 'Free Guy' and 'Deadpool' actor Ryan Reynolds as a time-traveling pilot from the future who travels to the past and teams-up with the 12-year-old version of himself in order to save the timeline.
In addition to Reynolds, the cast also features Zoe Saldana, Jennifer Garner, Catherine Keener, Mark Ruffalo, and newcomer Walker Scobell. The result is a really fun and fresh take on time-traveling comedies like 'Back to the Future,' but also adds the emotion of 'Field of Dreams,' and features terrific performances from Reynolds and the rest of the cast.
The movie begins by introducing us to Adam Reed (Reynolds), a rebellious pilot from the future who steals a spaceship and travels to 2022, while he is pursued by law enforcement. We are then introduced to a 12-year-old version of Adam (Scobell), who lives alone with his mom (Garner) after his father, Louis Reed's (Ruffalo) recent death. The two Adams soon meet, and the older Adam explains that in the future, time travel exists, and that he has returned to find his girlfriend Laura (Saldana), who went missing after a recent mission.
With soldiers from the future chasing the older Adam, he soon finds Laura and discovers the truth behind her disappearance. Laura explains to Adam that the timeline has been changed by powerful business woman Maya Sorian (Keener), and it is up to them to stop her from permanently changing the future. Realizing that it was their own father's scientific experiments that led to the creation of time travel, the two Adams go back to before their dad's death to get his help in stopping Sorian, who at the time, was Louis' business partner.
I can't begin to tell you what a joy it was to watch this film. In a market place packed with sequels, remakes, reboots, and movies based on previous source material, it is so refreshing to see a completely original movie as good as 'The Adam Project.' Written by Jonathan Trooper, T.S. Nowlin, Jennifer Flackett and Mark Levin, the film is completely original and could easily become a franchise in the future.
'The Adam Project' marks director Shawn Levy and Ryan Reynolds second collaboration, after last year's terrific 'Free Guy.' As much as I enjoyed that film, 'Adam Project' is even better than 'Free Guy' and packs more of an emotional punch, especially with its father/son themes.
Shawn Levy is an incredibly talented director, but I didn't care much for his early films, including 'Cheaper by the Dozen,' 'The Pink Panther' and the 'Night at the Museum' franchise. But 2011's 'Real Steel' showed elements of what the filmmaker is truly capable of when he takes on more adult themed projects like 'Date Night,' 'The Internship,' 'This Is Where I Leave You,' and 'Free Guy.' 'The Adam Project' is a true culmination of his entire career, and the best movie he's ever directed.
The supporting cast is excellent, including Jennifer Garner and Mark Ruffalo, who form a mini '13 Going on 30' reunion with their pairing as Adam's parents. The two actors anchor the sci-fi elements of the movie with grounded and realistic performances. Garner is wonderful as Adam's grieving widowed mother, who is trying to do her best raising a son by herself.
And if you have ever lost a parent, you'll understand what an amazing moment it is in the movie when both Adams get to spend one more day with their departed dad. Ruffalo, much like Garner, ignores the science fiction in the plot and focuses on the relatable aspects of the screenplay giving a realistic and emotionally moving performance.
Zoe Saldana plays older Adam's love interest and is in many ways the heart of the film, even if she has limited screen time. Saldana has great chemistry with Reynolds and plays off his comedic wit quite well.
Catherine Kenner plays the film's antagonist Maya Sorian, and while the actress gives a solid performance, it is the least developed character in the movie. However, there are some great scenes where the actress acts opposite a younger version of herself, thanks to some really well done de-aging technology.
Young actor Walker Scobell is a great addition to the veteran cast and gives a remarkable debut performance. He mimics Reynolds mannerisms and attitude perfectly and is very believable in the role.
But in the end, the film belongs to Ryan Reynolds, and the actor gives the type of performance that only he can give. He plays older Adam with his trademark combo of arrogance and sarcasm, similar to his characters in 'Deadpool' and 'Red Notice,' but a little darker in some ways. However, he never allows Adam to become unlikable, even when he is arguing with his younger self. The actor also has some really nice emotional scenes with Saldana and Ruffalo and is completely believable in all the action sequences.
'The Adam Project' is the most original, fun, and entertaining movie I have seen in a long time. With a sequel to Levy and Reynolds' 'Free Guy' already announced, I can only hope the director and actor find time to make more 'Adam Project's in the future.
'The Adam Project' receives 4.5 out of 5 stars.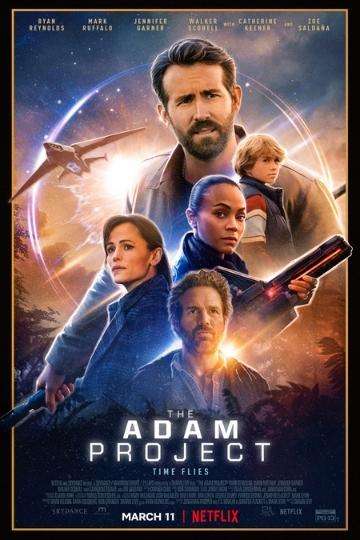 1 hr 46 min
Mar 11th, 2022