Ms. Moviefone's Top Five Can't-Miss SDCC Activities
This year marks the 50th time in history that the pleasant, beachy hamlet of San Diego explodes with magic and enthusiasm for all things nerdy, overstuffing every available space in a three mile radius in the Gaslamp Quarter. For anyone who's had the pleasure of attending San Diego Comic Con and willingly dehydrated themselves at the mere suggestion of catching a glimpse of Patrick Warburton, you know that SDCC turns  the "fun" dial to 11 and breaks the knob off. This year is no exception, so the following serves as a road map of the top five shiniest things that I will be seeing and doing while slathering on sunscreen and adjusting my wig.
"Terminator: Dark Fate" Panel
When: Thursday, July 18 at 11 a.m.
Where: Hall H (of course!

What: Paramount Pictures brings a "Terminator: Dark Fate" panel discussion and footage presentation with talent and filmmakers. There's not much I can reveal about this one, except that I'll be hosting, and I have already practiced my T-1000 run and have confirmed I definitely cannot do it. 
Amazon Offsite
When: Thursday, July 18 through Sunday, July 21 from 9 a.m. to 5 p.m.
Where: MLK Promenade & First Ave
What: The important number to note here is 60,000, which officially refers to the square footage of Amazon's ginormous activation. Unofficially, it refers to how many minutes I'm willing to spend in line because this thing looks amazing. That's plenty of room for attendees to enjoy video and live promos for "The Boys," "Carnival Row," and "The Expanse" on a 40-foot tall tower that we can only assume will later be used as some kind of ghost conduit, a'la "Ghostbusters."  Inside, attendees will receive gold and silver coins and thwart kidnappings, tour a spaceship, and lounge in a neo-Victorian fairy tale venue. Sounds like a high-capacity event that will be a great way to escape the heat and get some good future-binging ideas (and some killer Instagram pics).
"His Dark Materials" Panel
When: Thursday, July 18 at 4:45 p.m.
Where: Hall H
What: If you're like me, you've spent entirely too many minutes either grumbling about how dark the "Battle of Winterfell" was or reading and re-reading episode recaps of all of season two of "Westworld" -- so even though HBO is bringing "Game of Thrones" and "Westworld" panels to the con, SDCC is about discovering the next hot thing. That points me directly to "His Dark Materials," an adaptation of a trilogy of novels by Philip Pullman (unsuccessfully adapted, once, as a Nicole Kidman/Daniel Craigmovie with talking polar bears).  At the heart of the story is Lyra, a young woman who is searching for a missing friend in a very magical landscape. Panel attendees will include Dafne Keen, Lin-Manuel Miranda, James McAvoy, and Ruth Wilson, among others. Talking polar bears TBD.
"Parks and Recreation" 10th Anniversary Panel
When: Friday, July 19 at 4:30 p.m.
Where: Horton Grand Theater
What: It's been a decade since our beloved "Parks and Recreation" was on television, but in that time, Amy Poehler's Leslie Knope has become even more important to our upside-down world. She's the epicenter of hope in her town, and is always bringing out the best in the rich, vibrant characters who surround her. This panel is being kept under wraps for the most part, but I'll be in line to get my ticket early Friday morning. I'm assuming it will be hosted by Perd Hapley, and will feature appearances from Brandi Maxx, the Red-Faced Man, someone from Eagleton to boo, and Duke Silver. I hope I'm right.
"Batwoman" Pilot Screening
When: Saturday, July 20 at 10:30 a.m.
Where: Ballroom 20
What: Kate Kane protecting the streets of Gotham makes me feel spiritually safer in my real city.  The CW has a knack for bringing DC Comics to life in engaging ways, and with Ruby Rose starring as a highly-trained street fighter and out lesbian, I've already set my DVR. This panel will feature the pilot and a Q&A after. 
**BONUS CHOICE**
MOVIEFONE PANEL
When: Saturday, July 20 from 8 to 9 p.m.
Where: Room 28DE
What: Shameless plug: There's nothing worse than a great movie that blows it at the end. Moderator Grae Drake (Ms. Moviefone) asks you to pitch your alternate (not necessarily happy) endings for otherwise-great films to a panel of judges made up of movie critics, filmmakers, actors, comedians, and other opinionated movie-lovers. You know, like a live version of that Change.org petition you signed that one time! Each idea is ranked on its merits by the judges and audience, and at the end of the panel the winner will be declared and a team of improv performers will bring the new improved scenario to life in front of your very eyes. Does anybody have a therapy dog?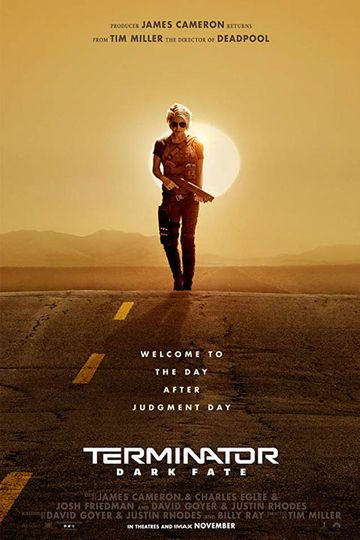 "Welcome to the day after judgement day"
Decades after Sarah Connor prevented Judgment Day, a lethal new Terminator is sent to eliminate the future leader of the resistance. In a fight to save mankind,... Read the Plot