Tom Hardy Defends 'Venom' PG-13 Rating, and Pushes for Fight With 'Avengers'
Tom Hardy wants his Eddie Brock/Venom "to run with the established family" -- meaning the Marvel Cinematic Universe family. The best way to get into that world is probably through a PG-13 rating, despite many comic book fans wanting an R-rated "Venom."
"Venom" co-stars Tom Hardy and Riz Ahmed talked to MTV International about Sony's Marvel Comics film -- which is separate from Marvel Studios' Marvel Comics films with the "Avengers." During the talk, Hardy tried to defend the PG-13 rating, and also pushed for a future crossover with the "Avengers."
Ahmed first talked about comic book fans being so hardcore, and asking them questions on the street about "Venom."
MTV International: "Is there a particular question fans have been asking the most about 'Venom'?"

Tom Hardy: "'Is it going to be R-Rated?' That's the big question and the answers been answered, isn't it?"

Riz Ahmed: "It's a 15 in the UK."

Tom Hardy: "And it's a PG-13 in the States. But to be fair, the thing can fulcrum into R-Rated, and fulcrum into youth or children. My littlest ones, they watch Spider-Man and Venom quite comfortably and Venom toys appear and LEGO appear in my nostril in the morning, you know what I mean? So it's not like they're scared by him. And at the same time there's a lot in the real estate that you can actually imbue with a complete sense of gratuitous violence if you really wanted to, and I think you've got the right people for that job if you want to push it. Of course that's where I'd love to go with it. And I'd love to through all the Avengers as well with it. But that's above my pay grade. Riz, maybe you could have a word."

Riz Ahmed: "You want me to talk to the Avengers and tell them you want to have a fight with them? That Venom wants to fight the Avengers."
Hardy put them out there for a crossover, but if it doesn't happen, he thinks they can fight alone.
Watch the full MTV video for more, including the breaking news that Tom Hardy is not actually obsessed with the angel emoji, because someone else runs his social media for him.
"Venom" opens in theaters October 3.
Want more stuff like this? Like us on Facebook.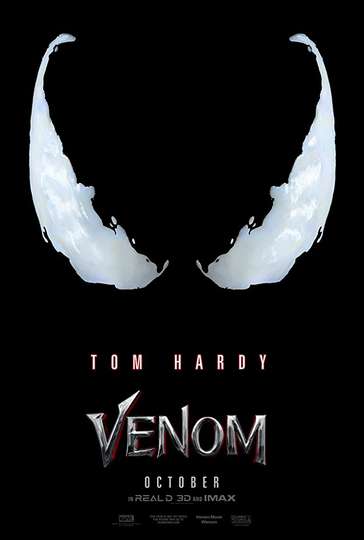 "The world has enough Superheroes."
Investigative journalist Eddie Brock attempts a comeback following a scandal, but accidentally becomes the host of Venom, a violent, super powerful alien symbiote.... Read the Plot