Ben Affleck on Batman Exit: 'I Want to Find a Graceful and Cool Way to Segue Out'
The future of Batfleck is still in question.
Ben Affleck recently joined the cast of "Justice League" on the red carpet, promoting his second major turn as Bruce Wayne/Batman after "Batman v Superman: Dawn of Justice." There have been contradictory rumors about his involvement in the DCEU moving forward, but nothing solid. All we know is that he was going to co-write, direct, and star in "The Batman" solo film for Warner Bros./DC, and now Matt Reeves is directing with a new script.
Will Affleck even play Batman in "The Batman"?
Here's part of USA Today's new report:
"The new Batman movie being developed by Matt Reeves ('War for the Planet of the Apes') is 'something I'm contemplating,' says Affleck, who originally was tapped to direct. 'You don't do it forever, so I want to find a graceful and cool way to segue out of it.'

While he ponders his own future as the Dark Knight, the actor does see a timeliness in Justice League's arrival now. 'We certainly are in need of heroes in 2017,' Affleck says. 'There's a lot of stuff going on in the world, from natural to man-made disasters, and it's really scary. Part of the appeal of this genre is wish fulfillment: Wouldn't it be nice if there was somebody who can save us from all this, save us from ourselves, save us from the consequences of our actions and save us from people who are evil?'"
Yes, that's part of the superhero appeal. Someone who can just swoop in and save us from ourselves.
But his comment about his future as Batman -- wanting to find a graceful and cool exit -- mirrors at least one of the past rumors. That one came from a Hollywood Reporter source who said, in July, that the studio wants to usher Affleck out "gracefully, addressing the change in some shape or form in one of the upcoming DC films." That was in contrast to Warner Bros telling THR, also in a July report, "Ben is our Batman. We love him as Batman. We want to keep him in the cowl as long as we can."
Shortly after those reports, Affleck laughed off the idea that he was leaving. "Batman is the coolest f**king part in any universe, DC, Marvel," Affleck said during San Diego Comic-Con. "I'm so thrilled to do it." However, the next month, his own brother Casey Affleck said he didn't think Ben would return for "The Batman." He may have been just making that up, as he joked, but ... would he do that?
For now, we have Affleck as Batman in "Justice League," which has been getting mostly positive early reactions, and will open wide this Friday, Nov. 17.
Want more stuff like this? Like us on Facebook.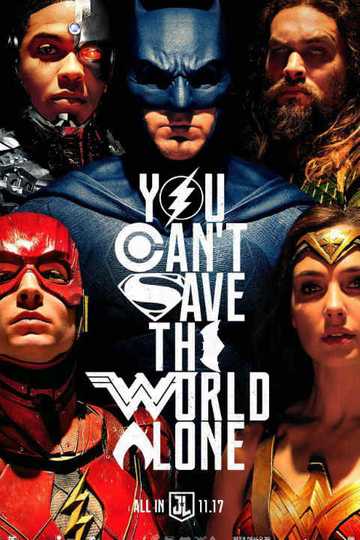 Justice League
Fuelled by his restored faith in humanity and inspired by Superman's selfless act, Bruce Wayne and Diana Prince assemble a team of metahumans consisting of Barry Allen, Arthur Curry and Victor Stone to... Read More