 Never tell "Solo: A Star Wars Story" the odds!
"Black Panther" started its box office domination in February, breaking record after record, including topping "Captain America: Civil War" for superhero pre-sales. Now "Avengers: Infinity War" has that record-breaking job.
But here comes "Solo: A Star Wars Story," the second standalone in the Star Wars film galaxy after "Rogue One," and it is now stealing headlines.
According to Fandango, "Solo" tickets went on sale Thursday, and the first 24 hour count doubled that of "Black Panther" for the same time period. That said, "Solo" didn't quite beat "Avengers: Infinity War," which is still has the record for fastest-selling advance tickets.
It may not be surprising to hear that tickets for a "Star Wars" movie are flying off the digital shelves, but "Solo" isn't part of the Saga and ... it's been a troubled child, hasn't it. After the director firings late in production, rumors of trouble behind-the-scenes, and tepid reaction to the first trailer, it looked like "Star Wars" might have a miss with Alden Ehrenreich's Han Solo.
But the most recent trailer seemed to win some fans over, and clearly if early ticket sales are hot, there's still a lot of superfan interest.
So far, early tracking suggests "Solo" will open to $160-$170 million Friday to Monday in its Memorial Day Weekend debut. Not quite "Infinity" numbers -- or "Star Wars: The Force Awakens" or "The Last Jedi" -- but potentially better than "Rogue One."
"Solo" opens in theaters on Friday, May 25.
Want more stuff like this? Like us on Facebook.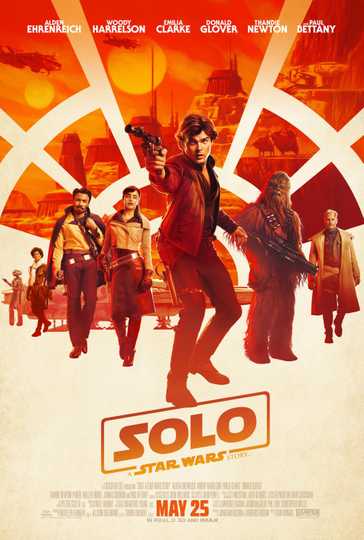 Solo: A Star Wars Story
Through a series of daring escapades deep within a dark and dangerous criminal underworld, Han Solo meets his mighty future copilot Chewbacca and encounters the notorious gambler Lando Calrissian. Read More