Here's Why 'Tarzan' Beat Expectations at the Box Office
When they hear the word "vine," today's moviegoers are more likely to think of short social-media videos than of jungle hero Tarzan.
No wonder box office analysts expected "The Legend of Tarzan" to be a costly flop, along the lines of "The Lone Ranger" a few years ago. It's based on an ancient franchise that modern-day viewers don't seem to remember, much less care about. Unlike "Lone Ranger," the new "Tarzan" didn't even have the saving grace of an A-lister like Johnny Depp in the cast. So predictions for the expensive tentpole's opening weekend were modest: it would gross between $20 and $25 million and debut in fourth place, behind returning hit "Finding Dory" and newcomers "The Purge: Election Year" and "The BFG."
But "Tarzan" surprised everyone by doing nearly twice as well as expected, with an estimated $38.1 million through Sunday, with a second-place finish well ahead of "Purge" (an estimated $30.9 million) and "BFG" (an estimated $19.6 million). While those figures are better than expected, Warners should hold off on breaking out the champagne: "Tarzan" will need all the overseas money it can get if it wants to recoup its rumored $180 million budget. Here are some reasons why it was premature to count Tarzan out, and why the movie's perceived weaknesses were actually strengths.
1. The Character Is the Star It doesn't matter that Alexander Skarsgård isn't a box office draw. If the movie looks good enough, viewers don't care who plays Tarzan -- if the A- CinemaScore is any indication.
2. Female Appeal That's not to slight Skarsgård, who looks pretty amazing wearing nothing but a loincloth period-appropriate chino shorts. Also, he can act, which is good for that brooding quality every Tarzan needs. Did we mention his six-pack? That's one way "Tarzan" differs from other long-enduring franchises: by necessity, it offers eye-candy for women.
Indeed, there was a slight female majority (51 percent) among the "Tarzan" opening-weekend audience. Indeed, all this weekend's new movies had strong female appeal, with "BFG" drawing an audience that was 54 percent women and girls and "Purge" playing to a horror audience that's traditionally mostly female.
3. Fun for All (er, Most) Ages Yes, there's a lot more of a nostalgia market than a youth market for "Tarzan." Some 55 percent of the audience was over 35. But what else is going to bring older adults into theaters in the summer? Not last week's "Independence Day: Resurgence," which seemed to hawk a spitball of alien slime all over people's memories of the original 1996 movie. Speaking of which...
4. Weak Competition "Tarzan" also pleased action fans who were disappointed with "Resurgence." (Which, by the way, dropped 60 percent from last week to an estimated $16.5 million to finish in fifth place.) There was no way it was going to beat "Finding Dory" (which pulled in another estimated $41.9 million from Friday to Sunday, with an estimated $50 million over the holiday). Surprisingly, "Tarzan" outperformed fellow family film "The BFG."
The Steven Spielberg kiddie pic (above) came in way below predictions, unable to crack even the $20 million mark. (Then again, it was also competing against "Dory," for the same young viewers.) It will be one of Spielberg's biggest flops ever. With "Tarzan" locking up the older viewers, the vine-swinger's only real competition came from "Purge," which did a little better than expected. But it opened on just 2,796 screens, compared to 3,561 for "Tarzan."
5. Execution There's an elephant's-graveyard of previous "Tarzan" reboots over the last 40 years, with all but the Disney animated feature turning out to be campy failures. For a live-action "Tarzan" to work, it has to be directed with some real forethought and craftsmanship. David Yates isn't the flashiest director or the one with the most personal style, but he knows how to handle big-budget, occasionally bleak blockbuster franchise films, as he proved on the final four "Harry Potter" movies.
"Tarzan" may have been a particularly tricky assignment that required someone as no-muss-no-fuss as Yates. The franchise's white-savior narrative doesn't really fly anymore, but the new script by Craig Brewer and Adam Cozad tries to remedy that by adding an awful lot of historical and political backstory. That's a heavy burden for a summer movie hero who doesn't wear shoes and whose signature line of dialogue is a wordless yodel. Few critics seemed to think Yates pulled it off, but audiences clearly thought he did.
Though did they like it enough? The movie will have to gross about $720 million worldwide to break even. As much of an overperformer as "Tarzan" has been so far, there seems little chance of passing that milestone and turning a profit. Still, there's two weeks to go before "Ghostbusters" goes after general audiences and nostalgia-minded viewers, and three weeks before "Star Trek Beyond" becomes the action movie of choice.
So "Tarzan" has some time to grab the lion's share of the marketplace. After that, it's welcome to the jungle.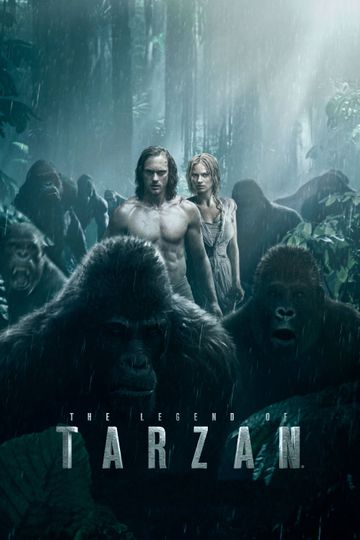 "Human. Nature."
Tarzan, having acclimated to life in London, is called back to his former home in the jungle to investigate the activities at a mining encampment. Read the Plot