11 More Times In Hollywood: Movies To Check Out After Watching Tarantino's Latest
Quentin Tarantino's "Once Upon A Time In Hollywood" is, like all of his earlier films, a celebration of the writer-director's eclectic, encyclopedic influences. But rather than designing another tribute to a genre he loves, like he did in the past with Westerns ("Django Unchained"), war films ("Inglourious Basterds") and martial arts movies ("Kill Bill Vol. 1" and "2"), the ninth film of his proposed ten-film oeuvre is a deeply personal trip down memory lane that attempts to recreate the cultural climate of his childhood, filtered through fictionalized versions of TV shows and movies whose influence bled into his soul.
As always, it becomes a fun exercise to discover -- or maybe more accurately, try and figure out -- what, where and how Tarantino was influenced by for the disparate and eclectic components of his characters, scenes and overall stories. But as "Once Upon A Time In Hollywood" arrives in theaters, Moviefone offers a short primer, and a laundry list of key titles, that can provide fans with continued (and expanded) viewing options after the filmmaker's latest settles into its cinematic "happily ever after."
"Navajo Joe" (1966)
Leonardo DiCaprio's character Rick Dalton was loosely inspired by Burt Reynolds, who spent several years in TV guest spot purgatory playing bit parts and villains after leaving the series "Riverboat" in 1960. Part of his eventual comeback included this low-budget Sergio Corbucci film where Reynolds played a Native American who squares off against the gang of outlaws that massacred his tribe.
"The Happening" (1967)
Anthony Quinn and one of Tarantino's favorites, Michael Parks ("Kill Bill Vol. 2"), star in this thriller about four hippies who kidnap a mob boss and hold him for ransom. Like others on this list a film Tarantino showed recently at his Los Angeles movie theater, the New Beverly. Its premise distantly echoes some of the details of his new film, and touches on the way that early counter-culturalists were depicted during the heyday of the hippie era.
"Lady In Cement" (1968)
Frank Sinatra starred alongside Raquel Welch in this neo-noir about a detective who discovers a woman encased in concrete at the bottom of the ocean, and must uncover the perpetrator. Seen only briefly in the film -- appropriately enough as a movie trailer -- films of this ilk, star vehicles that have gone largely forgotten, lend an atmosphere of verisimilitude to Tarantino's recreation of the time period.
"Rosemary's Baby" (1968)
Mia Farrow starred in this Academy Award-winning horror movie about a young woman who discovers she may be giving birth to something unholy after her ambitious husband (John Cassavetes) makes a possibly literal deal with the devil in order to kickstart his career. Though the movie doesn't make an appearance in "Hollywood," Tate's relationship with director Roman Polanski figures into the sprawling tapestry of Tarantino's film.
"The Wrecking Crew" (1968)
Starting in 1965, Dean Martin starred in a series of adaptations of novels about spy Matt Helm -- a franchise designed to compete with James Bond, but only by parodying all of the elements that made 007 cool and popular (not to mention the same elements in the source material). Sharon Tate not only starred in this fourth film, but played by Margot Robbie in the film, Tate attends a matinee of the film in Westwood, California, where she enjoys listening to her fellow moviegoers laughing and cheering along with her bumbling exploits as a klutzy Danish woman who teams up with Helm.
"Bob & Carol & Ted & Alice" (1969)
Paul Mazursky wrote and directed this incisive comedy about two couples dealing with honesty and infidelity after one pair attends a couples retreat and tries to incorporate its lessons of complete candor into their regular lives. Another film Tarantino screened at the New Beverly, the film captures not only the films being shown in theaters at the time in which "Hollywood" is set but reflects a changing sensibility about monogamy and relationships that is mirrored in the depiction of Tate's marriage to Polanski and her ongoing relationship with former lover Jay Sebring.
"Flareup" (1969)
Played by Timothy Olyphant in the film, James Stacy was a television star who led the 1968-70 series "Lancer," in whose pilot DiCaprio's character Rick Dalton portrayed the villain. During the same year in which the movie takes place, Stacy starred in this seedy thriller starring Raquel Welch as a Vegas dancer trying to figure out who's trying to kill her.
"Marlowe" (1969)
Bruce Lee had become a minor TV star by the late 1960s thanks to his role as Kato on the series "The Green Hornet" and makes an appearance as a minor character in "Once ..." as Sharon Tate's stunt choreographer on "The Wrecking Crew" and, well, we won't get into his other big scene. Although he wouldn't achieve international fame until after the release of "Enter the Dragon" in 1973 (and the release of his four Hong Kong films), he first gained the attention of American audiences in this adaptation of the Raymond Chandler novel "The Little Sister" starring James Garner.
"Model Shop" (1969)
Jacques Demy directed his first English-language film with this wonderfully contemplative story of an unemployed architect (played by "2001" star Gary Lockwood) who falls for an exotic, melancholy "model shop" actress (Anouk Aimee) after his girlfriend (Alexandra Hay) grows tired of his aimlessness. Demy captures late '60s Los Angeles like almost no one else, chronicling its endless network of streets and highways as well as a mood that anticipated but wasn't quite ready for the countercultural forces that were bringing change.
"The Sterile Cuckoo" (1969)
Future "Parallax View" and "All the President's Men" director Alan J. Pakula directed this comedy-drama starring Liza Minelli as a young woman who falls for a reserved college student (Wendell Burton), and their relationship is subsequently tested by the challenges of growing up -- together, and independently, as individuals. The late '60s became a clearing house for studios exploring relationship dynamics with sex-comedy premises, and this one was regarded as uniquely thoughtful about the changes that occur between the two people at the heart of its story.
"Billy Jack" (1971)
Although Brad Pitt's character Cliff Booth was loosely inspired by stuntman-turned-director Hal Needham ("Smokey and the Bandit"), Pitt reportedly based elements of his performance on the title character from this movie, played by actor Tom Laughlin. Laughlin plays a half-Navajo Vietnam veteran who battles injustice (often violently) on behalf of other Native Americans in order to preserve peace near an Arizona college.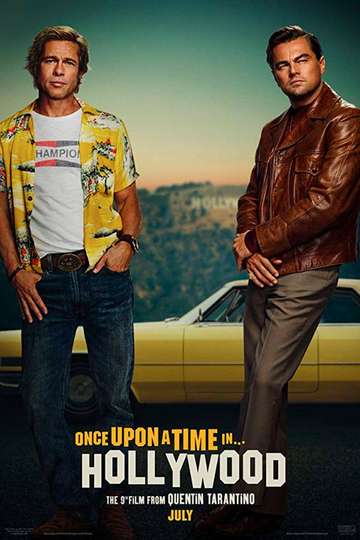 "In this town, it can all change… like that"
2 hr 42 min
Jul 26th, 2019
Showtimes & Tickets
Los Angeles, 1969. TV star Rick Dalton, a struggling actor specializing in westerns, and stuntman Cliff Booth, his best friend, try to survive in a constantly changing... Read the Plot