14 Things You Never Knew About Guillermo del Toro's 'Pan's Labyrinth'
With "The Shape of Water" poised to become an awards-season favorite, it's worth looking back at the last time Guillermo del Toro was on this turf: during the run of 2006's "Pan's Labyrinth."
Like "Water," "Labyrinth" was an original del Toro fantasy, set against the backdrop of traumatic recent real-world history. Both films also center on a relationship between an emotionally complex and vulnerable human female and an exotic creature played by frequent del Toro collaborator Doug Jones (albeit under pounds of latex makeup.)
"Labyrinth's" awards-circuit success bodes well for "Water." The 2006 film cleaned up at the box office, doing very well for a Spanish language movie in subtitle-averse America, and it won several Oscars for realizing its imaginative vision. Indeed, it may represent del Toro's finest work as a filmmaker.
As much of a favorite of film critics and del Toro fanboys as "Pan's Labyrinth" has become, there's still much you may not know about the movie's history. Read on to discover the mysteries hidden in del Toro's maze.
1. The movie's Spanish title is "El laberinto del fauno," meaning "The Labyrinth of the Faun," a reference to both classical mythology and a short story of the same title by Argentine author Jorge Luis Borges.
2. The faun isn't specifically the demigod Pan, but marketers were worried that American viewers wouldn't know what a faun is, so the English title references the more famous half-man/half-goat figure.
3. Del Toro has called the story a spiritual sequel to "The Devil's Backbone," his horror/fantasy tale that's also set among children in war-torn Fascist Spain. One inspiration was del Toro's own recurring childhood dream of a faun who would emerge from his bedroom closet every night at midnight.
4. The filmmaker developed the story and its visuals in the famous notebook he's kept over the past several decades. He nearly lost the movie when he left the "Labyrinth" sketchbook in a London taxi, but the cab driver returned it two days later.
5.Ivana Baquero (above) was 11 when she made the movie, well older than the 8- or 9-year-old girl that del Toro had envisioned Ofelia to be. But her audition made del Toro's wife and the camera operator cry, so he rewrote the script to accommodate her.
6. Del Toro turned down the chance to direct the first "Chronicles of Narnia" movie to direct "Labyrinth."
7. Usually, actors who play villains say they have to like some aspect of the character, to play him as if he doesn't think of himself as a villain. But Sergi Lopez, who plays Captain Vidal, has called his character "a psychopath who is impossible to defend." Del Toro cast Lopez, better known as a comic actor, despite warnings from other filmmakers that Lopez wouldn't be able to deliver the terrifying performance he ultimately gave.
8. Having worked with del Toro on "Mimic" and "Hellboy," Doug Jones said he received an e-mail from the director urging him to star as the faun in "Pan's Labyrinth." In the email, GDT said: "You must be in this film. No one can play this part but you."
9. Jones ended up playing not only the faun but also the Pale Man, the silent, child-eating monster with eyeballs in the palms of his hands. The face had no eyes, so Jones could see only through the character's nostrils.
10. The faun role required the American Jones to learn dialogue written in an archaic form of Spanish. And since it took Jones five hours a day in the makeup chair to transform into the goat-man (the horns alone weighed 10 pounds), he had plenty of time to learn to mouth the dialogue. His voice, however, was ultimately dubbed by a Spanish theater actor.
11. Del Toro told Jones the faun should have the swagger of a rock star, "less David Bowie and more Mick Jagger."
12. "Pan's Labyrinth" cost a reported $19 million to make. It returned $83 million worldwide, including $38 million from North American theaters. In the United States, it's the most successful Spanish-language film ever released, and the fifth most lucrative foreign language film ever.
13. The Academy nominated "Labyrinth" for six Oscars, including Original Screenplay, Original Score, and Foreign Language Film. (The movie was Mexico's official submission to the Oscars in 2006.) It won the prizes for Cinematography, Art Direction, and Makeup.
14. While making 2008's "Hellboy II: The Golden Army," Del Toro said he was developing a follow-up to "Pan's Labyrinth" that would have been the third movie in his trilogy of horror movies about the early Franco era in Spain. Called "3993," it would have involved a narrative that jumped in time from 1993 to 1939. Alas, the film never got made.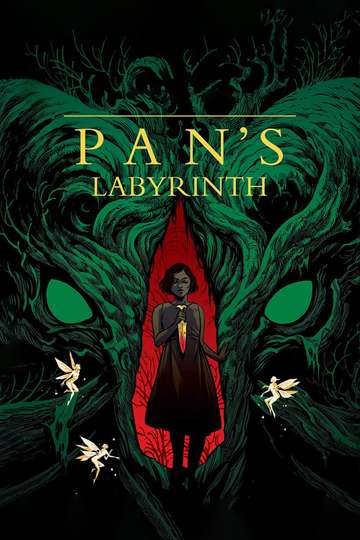 "What happens when make-believe believes it's real?"
1 hr 58 min
Oct 15th, 2006
Showtimes & Tickets
Living with her tyrannical stepfather in a new home with her pregnant mother, 10-year-old Ofelia feels alone until she explores a decaying labyrinth guarded by a... Read the Plot