Selena Gomez to Lead the Cast of 'Working Girl' Remake
Ilana Peña is writing the script for the new movie, which will tackle office politics like the 1988 original movie, which starred Melanie Griffith and Harrison Ford.
Remakes, particularly of respected, popular movies, don't always face the best reception. But two high profile projects are hitting the news wires today – with 'Working Girl' following word that 'Road House' is going the remake route with Jake Gyllenhaal in the lead.
Selena Gomez, meanwhile, is attached to star in 'Working Girl', which is in development at 20th Century Studios. It's not as far along as 'Road House' (which has Doug Liman directing and a shoot scheduled to kick off this month), but it does have 'Crazy Ex-Girlfriend' and 'Diary Of a Future President' TV veteran Ilana Peña writing the script.
The 1988 original, directed by Mike Nichols, starred Melanie Griffith, Harrison Ford, Sigourney Weaver and Joan Cusack and follows an ambitious secretary (Griffith) who takes on her boss' identity while the latter is laid up with a broken leg.
The film was not only one of that year's breakout hits bringing in more than $100 million at the domestic box office, but it also was critically hailed and earned six Oscar nominations including a Best Picture slot, Best Actress nomination for Griffith and Supporting nods for Cusack and Weaver.
Deadline's story on the new movie has no details as to the plot for the new one, but chances are it'll update the narrative to encompass the challenges that women still face in the workplace, including the lingering shadow of harassment and the changing gender balance in American offices. There's also fertile material in how the face of work has changed in the wake of the pandemic, including the Great Resignation and working from home.
While Gomez has plenty of movie credits on her resume (including 'The Muppets', 'Spring Breakers' and a variety of voice work on the likes of the 'Hotel Transylvania' franchise), she's been receiving great reviews (and shockingly, no acting Emmy nomination) for 'Only Murders in the Building', in which she stars opposite Steve Martin and Martin Short.
The singer and actress has also been successful with her 'Selena + Chef' cooking series on HBO Max.
Looking to exploit a classic title with an update is nothing new in Hollywood terms, but the success of 'Top Gun: Maverick' (even though that's both a direct sequel and a semi-remake) has certainly pushed some projects forward.
No director is on board for the new 'Working Girl', but if it does make it to the shooting stage, it'll likely hit Hulu instead of cinemas. Which we can understand, since 'Only Murders' is one of that streaming service's crown jewels. And having Gomez aboard is definitely a plus in the company's eyes.
Of course, like 'Road House' (and possibly even more given its pop cultural and awards impact), any new 'Working Girl' will face comparisons with the original, and we don't envy the new team their job.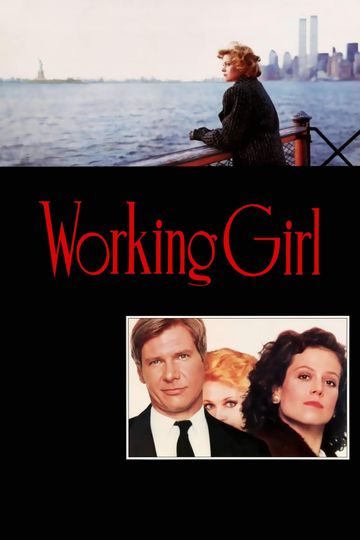 "For anyone who's ever won. For anyone who's ever lost. And for everyone who's still in there trying."
1 hr 54 min
Dec 20th, 1988