November 8th, 2016
by Gina Carbone
'Fantastic Beasts' Director Explains Why Johnny Depp Was Cast as Grindelwald
Why him? Johnny Depp is playing the dark wizard Gellert Grindelwald in a cameo in "Fantastic Beasts and Where to Find Them," and in a larger role in the second of five planned movies. "Fantastic Beasts" director David Yates and producer David Heyman -- longtime "Harry Potter" team members -- talked to The Leaky Cauldron about what's ahead for the franchise, and explained why Depp was chosen for this "iconic" role.
Here's what director David Yates told the site:
"[T]he whole principal of casting the movie was go with the best actor. Go for the most inspired, interesting, right fit for that character. And as we approached Grindelwald we thought, 'Who's going to take this in an interesting direction?' In this business, it's a weird old business. You're brilliant one week, people are saying odd things the next, you go up and down. But no one takes away your pure talent. Johnny Depp is a real artist. He's created several characters who have really resonated in our popular culture. He's a really brilliant, brilliant actor. We were excited about seeing what he would do with this guy, the character. He's fearless; he's imaginative; he's ambitious. We thought he would do something fun and special. So we went for him, purely on that selfish basis. We don't care if he's famous or not famous. We just know he's interesting."
Here's more on Depp from producer David Heyman:
"Grindelwald is an iconic character, so it was important to have someone who had that weight. There's a reason why he has that weight. It's because, you know, he's a fine actor who makes unexpected choices."
Unexpected choices. Yes. Yates confirmed to the site that the "beasts" of the title currently feature slightly less in the second film, "and Grindelwald takes more of a foreground. Currently. But we love the beasts so much. There's an amazing beast in the second movie–a Chinese beast, actually–that is featured. We're exploring how we can get a couple more beasts into the second film, with Jo." Jo is obviously author/screenwriter/Potter queen J.K. Rowling.
Yates said the second "Fantastic Beasts" film will primarily take place in Paris and the U.K. "I'm not sure where Jo is setting the rest of the movies, but they'll be European-centric. I think it will be difficult to ignore America, but the next one is predominately Europe."
And you probably saw that they are now casting for a younger Dumbledore, opposite Grindelwald. That should be an interesting dynamic to watch moving forward, as the story shifts across the pond.
The first "Fantastic Beasts" movie opens Friday, November 18.
Want more stuff like this? Like us on Facebook.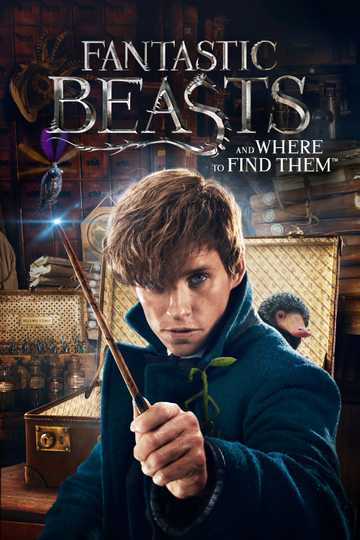 Fantastic Beasts and Where to Find Them
In 1926, Newt Scamander arrives at the Magical Congress of the United States of America with a magically expanded briefcase, which houses a number of dangerous creatures and their habitats. When the creatures... Read More