At a loss for what to watch this week? From new DVDs and Blu-rays, to what's streaming on Netflix, we've got you covered.
New on DVD and Blu-ray
"Jurassic World: Fallen Kingdom"
Cry for that Brachiosaurus from the privacy of your own home when the "Jurassic World" sequel arrives on 4K Ultra HD, 3D Blu-ray, Blu-ray, DVD, and On Demand on Tuesday, September 18. The release comes with more than an hour of bonus content, including Chris Pratt's behind-the-scenes "Jurassic Journals." A new five-Movie Collection will also be available Sept. 18.
Check out this exclusive clip from the bonus features, as Chris Pratt interviews -- or at least tries to interview -- director J.A. Bayona:
"Damsel"
Robert Pattinson and Mia Wasikowska star in this critically acclaimed Western comedy arriving on DVD, Digital, and On Demand September 18.  "Samuel Alabaster (Pattinson), an affluent pioneer, ventures across the American frontier to marry the love of his life, Penelope (Wasikowska). As his group traverses the West, the once-simple journey grows treacherous, blurring the lines between hero, villain, and damsel."
"The Looming Tower"
Based on the book by Lawrence Wright, this 10-part miniseries tracking the events that led to the 9/11 terror attacks arrives on Blu-ray and DVD September 18. The all-star cast includes Jeff Daniels, Tahar Rahim, Bill Camp, Michael Stuhlbarg, and Peter Sarsgaard. Extras include audio commentaries and several new behind-the-scenes featurettes on the making of the series.
New Video on Demand, Streaming, and Digital
"The First Purge" Universal Pictures
"The Purge" origin story arrives on Digital/Movies Anywhere September 18, then on 4K Ultra HD, Blu-ray, DVD, and On Demand October 2. The Purge 4-Movie Collection -- including "The Purge," "The Purge: Anarchy," "The Purge: Election Year," and the prequel "The First Purge" -- will also be available on the same dates.  "The First Purge" extras include a deleted scene and several featurettes with the cast and filmmakers.
"Sicario: Day of the Soldado"
"Sicario" stars Benicio Del Toro and Josh Brolin return for this sequel co-starring Isabela Moner, Jeffrey Donovan, Catherine Keener, Manuel Garcia-Rulfo, Matthew Modine, and Shea Whigham. The thriller arrives on Digital/Movies Anywhere September 18 and 4K, Blu-ray, and DVD October 2. Extras include three behind-the-scenes featurettes on the making of the movie.
"Little Italy"
Emma Roberts and Hayden Christensen, star in the romantic comedy "Little Italy," playing childhood friends who grow up to fall in love, but it's complicated by their parents' rival pizzerias. The all-star cast includes Alyssa Milano, Danny Aiello, and Andrea Martin. The rom-com arrives in select theaters and On Demand Friday, September 21.
"Beyond the Sky"
This sci-fi thriller will be in select theaters and available on VOD/Digital HD this Friday, Sept. 21. "Chris Norton has been hearing about alien abductions his entire life but, in his gut, he knows they are not real. Setting out to disprove the alien abduction phenomenon once and for all, he attends a UFO convention to meet alleged abductees and reveal the truth behind their experiences. It is only when he meets Emily, who claims to have been abducted every seven years on her birthday, that Chris realizes there may be more to these claims than meets the eye." Check out the trailer. 
"A Greater Society"
This political documentary -- available on VOD September 18 -- follows a group of retirees who vote in Broward County, FL. "It's the 2014 midterm elections and these residents feel the weight of democracy on their shoulders. In one of the most influential counties of America's largest swing state, these political kingmakers trade their golf clubs for clipboards and hit the pavement to get out the vote." Here's the trailer.
"Sorry For Your Loss"
Elizabeth Olsen, Janet McTeer , and Kelly Marie Tran star in this new series launching on Facebook Watch. The drama starts Tuesday, Sept. 18 with four episodes; after that, two new episodes will arrive every Tuesday at 9 p.m. ET on the "Sorry For Your Loss" show page on Facebook Watch. The half-hour drama stars Elizabeth Olsen as Leigh Shaw, a young widow struggling to put her life back together in the wake of her husband's unexpected death.
Check out the full list of September 2018 titles.
"The Good Cop" (Netflix Original) Netflix
Can't say we saw this coming. But we're willing to give it a try! Tony Danza and Josh Groban co-star as father and son Tony Caruso Sr. and Tony Caruso Jr. in this police dramedy series. It comes from the creator of "Monk" and it's adapted from a similar Israeli series. Stream the 10 episodes starting this Friday, September 21.
"Maniac" (Netflix Original)
Yesssss. We have been looking forward to this one. This wonderfully trippy-looking limited series, from the great Cary Fukunaga, stars Emma Stone, Jonah Hill, Justin Theroux, and even Sally Field. It streams September 21. Check out the trailer.
MANIAC tells the stories of Annie Landsberg (Emma Stone) and Owen Milgrim (Jonah Hill), two strangers drawn to the late stages of a mysterious pharmaceutical trial. Things do not go as planned.
"Nappily Ever After" (Netflix Film)
This looks so good. Sanaa Lathan, Ricky Whittle, Ernie Hudson, Camille Guaty, Lyriq Bent, and Lynn Whitfield star in this romantic dramedy premiering Friday, Sept. 21. Check out the trailer.
"Violet Jones has a seemingly flawless life – a great job, a handsome doctor boyfriend, and a meticulously maintained perfect coiffure. But after an accident at the hair-dresser, each of these things start to unravel, and Violet begins to realize that she was living the life she thought she was supposed to live, not the one that she really wanted."
"Quincy" (Netflix Original)
"Artist. Father. Visionary. QUINCY is an intimate look at musical icon and influential legend, Quincy Jones." (He's also Rashida Jones's father, in case you didn't know.) Watch it on Netflix September 21st." Here's the trailer.
"Hilda" (Netflix Original)
"Hilda takes on adventure, magical creatures, mystery, and new friends. Based off Luke Pearson's acclaimed graphic novel, all episodes launch September 21, only on Netflix." Here's the trailer. 
ALSO worth mentioning...
• "The Witch"  
Available September 17

• "American Horror Story: Cult" 
Available September 18

• "The Walking Dead" Season 8
Available September 23
TV Worth Watching
70th Annual Emmy Awards (Monday on NBC at 8 p.m.) Television Academy
It's TV's biggest night! Michael Che and Colin Jost -- aka "Saturday Night Live" Weekend Update co-anchors -- are tag-teaming the hosting duties this Monday, Sept. 17. Yeah, it's kind of weird to have the Emmys on a Monday, but it's happening. Here's the list of nominations. And check out this Emmy voter's ballot, which is happily pro-"The Americans" winning the top honor.
"9-1-1" Season 2 Premiere (Sunday on Fox at 8 p.m.)
Fox's hit first responders show is returning for Season 2, with a two-night premiere starting this Sunday, Sept. 23 and then continuing into the following Monday, Sept. 24.  Here are the details on Sunday's Part 1:
"On one of the hottest days of the year, the first responders feel the pressure as harrowing incidents keep happening around the city, including a road rage accident involving a van full of tourists, an emergency at an auto-repair shop and a veteran with a live grenade embedded in his leg. Meanwhile, Buck gets a surprise visit from his sister, Maddie (Jennifer Love Hewitt). Also, Athena questions her relationship with Bobby. Then, at the fire station, handsome new hire Eddie (Ryan Guzman) jeopardizes Buck's chances of being chosen for a fireman calendar."
"I Feel Bad" (Wednesday on NBC at 10 p.m.)
This new comedy comes from executive producer Amy Poehler. Sarayu Blue stars as Emet-- "the perfect mom, boss, wife, friend, and daughter. Okay, she's not perfect. In fact, she's just figuring it out like the rest of us. Sure, she feels bad when she has a sexy dream about someone other than her husband, or when she pretends not to know her kids when they misbehave in public, or when she uses her staff to help solve personal problems. But that's okay, right? Nobody can have it all and do it perfectly."
Want more stuff like this? Like us on Facebook.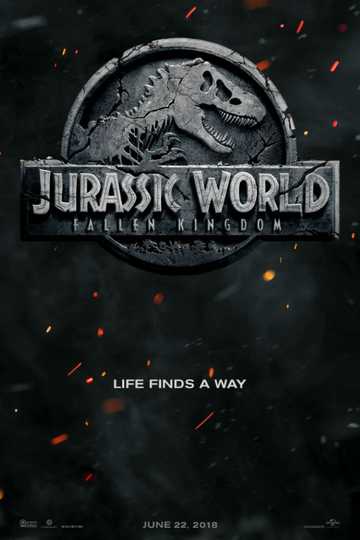 Jurassic World: Fallen Kingdom
Three years after the demise of Jurassic World, a volcanic eruption threatens the remaining dinosaurs on the isla Nublar, so Claire Dearing, the former park manager, recruits Owen Grady to help prevent... Read More