All the Oscar Winners in the MCU
The MCU cast can't be beat... including at awards shows. We're so invested in these characters, it's sometimes easy to forget a number of them won Oscars for other roles.
Here are all the Oscar winners, in order of their appearance in the franchise, beginning with "Iron Man" in 2008.
1. Jeff Bridges, Obadiah Stane
Sure, he's best known as The Dude in "The Big Lebowski," but he also made a damn good villain in "Iron Man" as Obadiah Stane, Tony Stark's supposed mentor who was really trying to kill him. After several nominations, Bridges won Best Actor for 2009's "Crazy Heart."
2. Gwyneth Paltrow, Pepper Potts
As Pepper Potts, Paltrow went from irreplaceable right-hand woman to a fierce fighter in her own right. And if she hadn't saved Tony's first arc reactor (against his wishes), there would have been exactly one Iron Man movie. And the universe would pretty much be dust. Paltrow won Best Actress for 1998's "Shakespeare in Love."
3. Sam Rockwell, Justin Hammer
Before he nabbed an Oscar for "Three Billboards Outside Ebbing, Missouri," Rockwell was a defense contractor intent on taking down business rival Tony Stark in "Iron Man 2." He unwisely partnered with Ivan Vanko (Mickey Rourke), who had an even bigger grudge against Tony. We prefer his dancing villain in "Charlie's Angels," tbh.
4. Anthony Hopkins, Odin
The "Silence of the Lambs" Oscar winner lent his gravitas to the All-Father, who casts out unworthy Thor (Chris Hemsworth) to Earth.
5. Natalie Portman, Jane Foster
Astrophysicist Jane Foster never expected her years of study to lead her to an incredibly handsome demigod, but there you go. Hurrah for science. She bowed out of the franchise after "Thor: The Dark World," but appears briefly in "Avengers: Endgame." Portman won Best Actress for "Black Swan."
6. Tommy Lee Jones, Col. Chester Phillips
In "Captain America: The First Avenger," Jones plays the superlatively grumpy Colonel who at first doesn't see the potential in scrawny Steve Rogers. Favorite scene: He interrogates Dr. Zola while asking if arsenic gives him a "rumbly tummy." Jones won a Best Supporting Actor Oscar for his similarly gruff U.S. Marshal in "The Fugitive."
7. Ben Kingsley, The Mandarin/Trevor Slattery

Sir Ben Kingsley, who won a Best Actor Academy Award for "Gandhi," makes a fearsome opponent as The Mandarin in "Iron Man 3." But there's a twist! He's really a washed-up actor hired to play the part. Kingsley plays both characters to perfection.
8. Benicio del Toro, The Collector
The Collector first pops up in an end-credits scene of "Thor: The Dark World." Turns out, he has one of the Infinity Stones, which everyone in the galaxy wants. "Infinity War" would have been quite different if he'd been the one to collect them all. Del Toro won Best Supporting Actor for his role as an undercover cop in "Traffic" (2000).
9. Robert Redford, Alexander Pierce
Since "Captain America: The Winter Soldier" was inspired by such '70s conspiracy films as "Three Days of the Condor," it was a real coup to score "Condor" star Robert Redford as SHIELD's Secretary of Defense. Redford (who says he's retired now) never won an acting Oscar, but took home a Best Director for "Ordinary People" (1980) and an Honorary Oscar in 2002.
10. Michael Douglas, Hank Pym
We wouldn't have Ant-Man without the "Wall Street" Oscar winner's character, who finds a way to shrink (and supersize) people and objects.
11. William Hurt, Thaddeus "Thunderbolt" Ross
Taking over the role first played by Sam Elliott in Ang Lee's "Hulk," Hurt's  general is there in "Civil War" to force the Avengers to sign the Sokovia Accords after everything that went down in "Avengers: Age of Ultron." And to strongly disapprove of everything Avengers-related. Hurt won Best Actor for 1985's "Kiss of the Spider Woman." (Which, we hardly need point out, has absolutely nothing to do with Spider-Man).
12. Tilda Swinton, The Ancient One
The Doctor Strange character, a Tibetan man in the comics, was reworked to be an androgynous Celtic woman (a decision not without controversy). Swinton's previously played Archangel Gabriel (in "Constantine") and a vampire (in "Only Lovers Left Alive"), so she's (ahem) an old hand at playing otherworldly, seemingly ageless characters. She won her Oscar for playing an unethical lawyer in "Michael Clayton."
13. Marisa Tomei, Aunt May
Tomei (who won her Oscar for "My Cousin Vinny") was so eager to sign on, she didn't realize that Peter Parker's aunt is usually portrayed as a little old woman with gray hair.  But we're fine with "Hot Aunt May." And a teenager's aunt is just as likely be in her early 50s than her 70s. (For what it's worth, Rosemary Harris was 64, only 12 years older than Tomei, for her first appearance as Aunt May in 2002's "Spider-Man.") Plus, this way we get an "Only You" reunion with Robert Downey Jr.
14. Jennifer Connelly, Karen
You may not be aware that was Jennifer Connelly as Karen, the voice of Peter Parker's suit A.I. in "Spider-Man: Homecoming." Which is nifty because, in real life, Connelly is married to Paul Bettany, the voice of Iron Man's AI,  JARVIS. And she costarred as Betty Ross in the 2003 "Hulk." Connelly won Best Supporting Actress for "A Beautiful Mind."
15. Cate Blanchett, Hela
The double Oscar winner clearly had a blast playing wicked Hela, who wreaks untold havoc on Asgard in "Thor: Ragnarok." All hail Goth Queen Blanchett!
16. Matt Damon, Actor playing Loki
The "Good Will Hunting" star (who collected an Oscar for cowriting the film), had a hilarious cameo in "Thor: Ragnarok" as an actor reenacting the tragic death of Loki. (Who isn't really dead after all, of course.)
17. Lupita Nyong'o, Nakia
Nakia is not only T'Challa's freeze-inducing love interest in "Black Panther," but a conscientious force for all who are exploited and underrepresented. After holding her own in battle, she helps steer Wakanda towards a more benevolent, open relationship with the rest of the world. After a number of voice-only roles, it's good to actually see Nyong'o, who won an Oscar for "12 Years a Slave," in action.
18. Forest Whitaker, Zuri
The "The Last King of Scotland" Oscar winner played elder Wakanda statesman Zuri, who is the keeper of the heart-shaped herb. According to director Ryan Coogler,  Whitaker thinks of him as "the Wise Old Man, Black Panther's version of Obi-Wan Kenobi." (Speaking of... Whitaker also appeared as Rebel leader Saw Gerrera in "Rogue One: A Star Wars Story.")
19. Brie Larson, Captain Marvel
Larson went from playing an abducted and imprisoned woman in "Room" (for which she won Best Actress) to a superhero whose realm is the entire galaxy. In the first solo film, Carol Danvers has to figure out who she is, exactly, and overcome the limitations others put on her. In "Room," she saves herself and her son. In "Captain Marvel," she saves a whole lot more.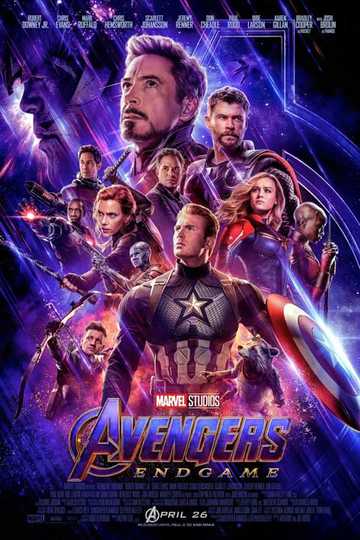 "Part of the journey is the end."
After the devastating events of Avengers: Infinity War, the universe is in ruins due to the efforts of the Mad Titan, Thanos. With the help of remaining allies,... Read the Plot