August 13th, 2019
by Sharon Knolle
The 16 Best Movies About Making Movies
Hollywood loves turning the camera on itself. Movies about making movies let filmmakers poke fun at the absurdity of their jobs, examine the dark side of ambition, and recreate long-lost eras. With that in mind, and the current zeitgeist-capturing energy of "Once Upon a Time ... in Hollywood," we wanted to highlight 16 of the very best movies about making movies.
"The Stunt Man" (1980)
Peter O'Toole plays a manipulative director who lets a criminal (Steve Railsback) hide out on his set if he does the incredibly dangerous stunts required. Could make a great double-feature with Burt Reynolds' similar "Hooper."
"Living in Oblivion" (1995)
Steve Buscemi has his hands full trying to direct an indie film in this underrated comedy. Among his headaches: A leading man who insists on wearing an eye patch and an actor (Peter Dinklage) who objects to appearing in a dream sequence just because he's a dwarf.
"Saving Mr. Banks" (2013)
Walt Disney (Tom Hanks) and "Mary Poppins" creator P.L. Travers ( Emma Thompson) butt heads over the making of the classic 1964 film. She objects to the songs, any animation and just about everything else, in this surprisingly heartwarming and underrated film.
"The Disaster Artist" (2017)
James Franco cowrote, directs and stars as Tommy Wiseau in this "making of" biopic about the cult sensation "The Room." He won a Golden Globe for Best Actor and was joined onstage by the real Wiseau. (Whom he wouldn't let near the microphone. Awkward!)
"Shadow of the Vampire" (2000)
What if the actor playing the vampire in the silent film "Nosferatu" was a real vampire? Willem Dafoe plays Max Schreck, who's not just starring in the film, but also picking off the cast and crew one by one. A charming and funny film that also serves as a compelling alternate history tale.
"Blow Out" (1981)
In this Brian De Palma thriller, John Travolta stars as a sound effects technician, whose main job is supplying the appropriate screams and spooky sounds for low-budget horror films. While out recording one night, he becomes an ear-witness to the murder of a presidential hopeful. The final scene will gut you.
"Bowfinger" (1999)
Unable to land big star Kit Ramsey (Eddie Murphy) for his movie, aspiring filmmaker Bobby Bowfinger (Steve Martin) plans to shoot the film around him on the sly. When that fails, he casts a dimwitted lookalike (also Eddie Murphy). As real as it is funny.
"The Player" (1992)
Robert Altman's meta-movie is about a producer (Tim Robbins), who kills the screenwriter he thinks has been sending him death threats. Featuring cameos galore, a long opening shot about a long opening shot, and a star-studded movie-within-a-movie, this is essential viewing, thrilling and hilarious.
"Postcards from the Edge" (1990)
In this film adaptation of Carrie Fisher's book (which is very much about her real-life relationship with mom Debbie Reynolds), Meryl Streep is an actress whose drug problems make her a liability on set. She's forced to take roles the real-life Meryl would never do, like a cheesy cop movie where she's tied to a cactus at one point. Funny, funny stuff.
"The Artist" (2011)
It might have been a bit light to walk off with Best Picture and Best Actor, but this ode to the silent era is still delightful. Especially the dog. (RIP, Uggie.)
"Tropic Thunder" (2008)
One of the funniest movies ever made about moviemaking brings together a Tom Cruise-esque action star (Ben Stiller, who also directed), a ridiculously dedicated method actor (Robert Downey Jr.) and a coked-up comedian (Jack Black) for a Vietnam war film. (And keep in mind this is a movie where Cruise appears looking nothing like himself.) When the filming stops and the real violence starts, they don't even realize it.
"Once Upon a Time in Hollywood" (2019)
Although we never see Rick Dalton (Leonardo DiCaprio) and stuntman Cliff Booth ( Brad Pitt) on a movie set, Quentin Tarantino's ninth film is very much an ode to Hollywood's dream factory and the end of an era. By the film's end, Rick has re-invigorated his fading career with several spaghetti westerns, which almost make up for the fact he didn't land the Steve McQueen role in "The Great Escape."
"Hail, Caesar!" (2016)
The Coen Bros. deliciously revisit the studio era, dropping in on dizzying dance routines, swimming spectacles, and religious epics. Standout scene: Alden Ehrenreich is a cowboy star who's been upgraded to a prestige society pic.  The "trippingly" sophisticated patter keeps tripping him up, however.
"A Star is Born" (1954)
The best version of the oft-told "rising star who marries a self-destructive has-been." Judy Garland's character wins an Oscar in the film -- a devastating scene where her drunken husband (James Mason) crashes her acceptance speech to beg for a job. The Oscar was rightfully Judy's in real life as well, but went that year to Grace Kelly for "The Country Girl."
"Sunset Blvd." (1950)
A faded silent movie star (Gloria Swanson, who really was a silent movie star) plots her return to the big screen with the help of a broke screenwriter (William Holden) in Billy Wilder's savage noir. This American dream is rotting from the inside out. The final scene, "Mr. DeMille, I'm ready for my close-up," is legendary.
"Singin' in the Rain" (1952)
This smart, funny send-up of Hollywood's transition from the silent era to talkies is still the best movie ever made about Tinseltown. Getting diva Lina Lamont (Jean Hagen) miked up is just one of the priceless set-ups. Trivia: The voice dubbing over Lina's awful one? Jean herself, not Debbie Reynolds.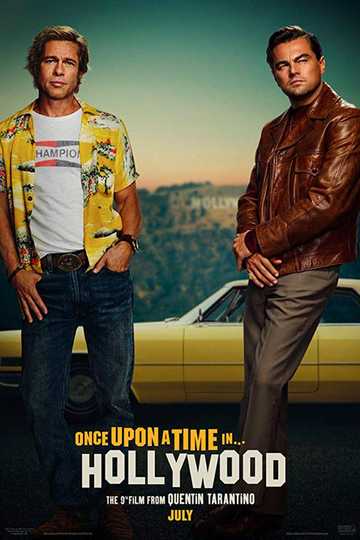 Once Upon a Time… in Hollywood
Los Angeles, 1969. TV star Rick Dalton, a struggling actor specializing in westerns, and stuntman Cliff Booth, his best friend, try to survive in a constantly changing movie industry. Dalton is the neighbor... Read More