Kevin Feige on the Future of Marvel and Phase 5
Plus, Chris Evans on which character he'd want to return as and the latest look at Thor: Love and Thunder.
Marvel Studios boss Kevin Feige is not a man who gives up secrets. Nor is he particularly inclined to offer much more than veiled hints about the next steps in the Marvel Cinematic Universe. But he did at least say something…
"As we're nearing the end of Phase 4, I think people will start to see where this next saga is going," confides Feige in the latest issue of Total Film. "I think there have been many clues already, that are at least apparent to me, of where this whole saga is going. But we'll be a little more direct about that in the coming months, to set a plan, so audiences who want to see the bigger picture can see a tiny, tiny, tiny bit more of the roadmap."
Right now, the remaining titles to come from Phase 4 are movies including 'Thor: Love and Thunder' (more on that below), 'Black Panther: Wakanda Forever', 'Ant-Man and the Wasp: Quantumania', 'Guardians of the Galaxy Vol. 3' and 'The Marvels'. TV output will include 'She-Hulk: Attorney at Law', the untitled Halloween special, a 'Guardians of the Galaxy Holiday Special', 'Secret Invasion', 'Ironheart' and 'Armor Wars'.
Big themes for this phase so far have definitely been the multiverse, with the introduction of Kang (Jonathan Majors), who will crop up in a few more stories, and more cosmic characters.
In related Marvel news, we got a new look at the next movie to arrive in the hugely successful MCU.
'Thor: Love and Thunder' is headed to theaters on July 7th and sees the return of Chris Hemsworth's Asgardian warrior.
In this latest outing, he's still hanging around with the Guardians of the Galaxy but starts to crave a more peaceful existence. The chances of that are slim to none, though, not least because Christian Bale's Gorr the God Butcher is out to destroy all beings like our hero.
And then there's the not-so-inconsequential matter of his former flame, Jane Foster (Natalie Portman), who has somehow acquired the powers of the Thunder God himself, including the ability to wield restored hammer Mjolnir.
With Taika Waititi once more co-writing and directing, it promises to be another blend of comedy and character drama, plus a full helping of thunder-powered action. In this latest look at the movie, we see Thor confronting Gorr and attempting to rally the people of Earth's New Asgard – a task not helped by insectoid Miek's screechy whiteboard use.
And to be filed under the more of a wish list item, Chris Evans has been addressing whether he'd return to the MCU. It sounds like he's happy keeping Cap wrapped but wouldn't mind returning as someone else from his Marvel – albeit not MCU – cinematic past.
"Look, I would love it," Evans told MTV news about playing Johnny Storm/Human Torch again. "I would love it. That would actually be an easier sell to me than coming back as Cap. You know what I mean? Cap is so precious to me. And you know, I almost don't wanna disrupt what a beautiful experience that was. But Johnny Storm, I feel like he didn't really get his day. That was before Marvel really found its footing. So, I loved that role and, you know, who knows?"
Given that Marvel is developing a new take on the Fantastic Four, we'd guess he won't be back. But, as Evans says, who knows? It's a big movie multiverse out there.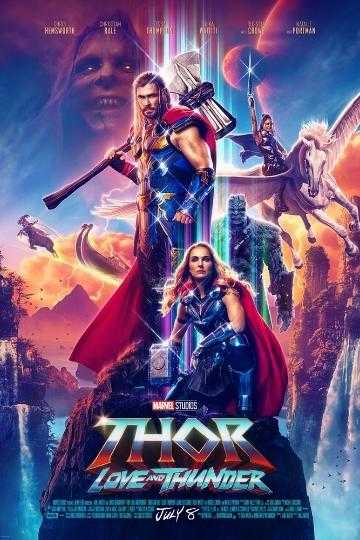 "The one is not the only."
Showtimes & Tickets
After his retirement is interrupted by Gorr the God Butcher, a galactic killer who seeks the extinction of the gods, Thor enlists the help of King Valkyrie, Korg,... Read the Plot