Amazon Developing 'Tomb Raider' Movies, Games and a Phoebe Waller-Bridge TV Series
The corporate giant is reportedly looking to turn the adventures of Lara Croft into a connected storytelling universe on the lines of the MCU.
Having seen success––at least in terms of buzz––with the likes of 'The Rings of Power' and 'The Boys', Amazon is breaking open its (admittedly huge) piggy bank for a new potential franchise.
According to The Hollywood Reporter, the company has struck a deal with Dmitri M. Johnson's dj2 Entertainment for the rights to the 'Tomb Raider' game series.
Launched in 1996 on Sony's PlayStation console, the 'Tomb Raider' series has gone on to be a huge selling title across various platforms, earning more than $95 million by last year and spawning a massive amount of merchandising.
The series gives the player control of fictional British archaeologist Lara Croft, who travels around the world searching for lost artifacts and infiltrating dangerous tombs and ruins.
It has been adapted a few times for movies––2001's 'Lara Croft: Tomb Raider' and 2003's 'Lara Croft: Tomb Raider – The Cradle of Life', both of which starred Angelina Jolie as the title character, and 2018's 'Tomb Raider', which rebooted the series, with Roar Uthaug in the director's chair and Alicia Vikander as Croft.
That most recent title came from MGM and Warner Bros., but there has been talk of a sequel, with first 'Meg 2: The Trench's Ben Wheatley and then 'Lovecraft Country's Misha Green attached to make it, development stalled.
Amazon, of course, bought MGM last year, but the rights to the 'Tomb Raider' games had already lapsed from the studio because of the lack of forward movement on the new movie.
With the rights in Amazon's grip, the plans have now shifted to building out an interconnected Lara Croft universe boasting a new game release and what will probably be another movie reboot.
Perhaps most intriguingly, the new universe also features a potential Prime Video TV series from 'Fleabag' creator Phoebe Waller-Bridge, who recently renewed her deal with Amazon. While we might not have expected Waller-Bridge to be all in on a 'Tomb Raider' title, she's apparently a fan of the games. and has had experience with action on the likes of 'Killing Eve' and recent Bond outing 'No Time to Die' (for which she provided script polishes).
No details have yet emerged on what Waller-Bridge's show might look like (she doesn't plan to appear, just write and produce) or how it might connect to any potential movie (or movies, you know Amazon will want to get their money's worth). But it's certainly interesting to ponder the idea of a Lara Croft with the writer's trademark snappy dialogue.
Yet Amazon is not the only company with an interest in Croft––this will no doubt be disheartening for Netflix, which already has a 'Tomb Raider' anime series in the works following a two-series order. Or perhaps it'll drive up interest in all things Lara?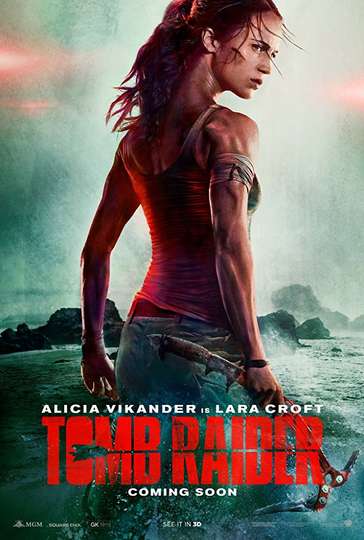 "Her legend begins."
1 hr 58 min
Mar 16th, 2018