Best Movies Celebrating their 30th Anniversary in 2022
With Francis Ford Coppola's 'The Godfather' celebrating its 50th anniversary this year, Moviefone takes a look at the best films celebrating their 30th anniversary in 2022!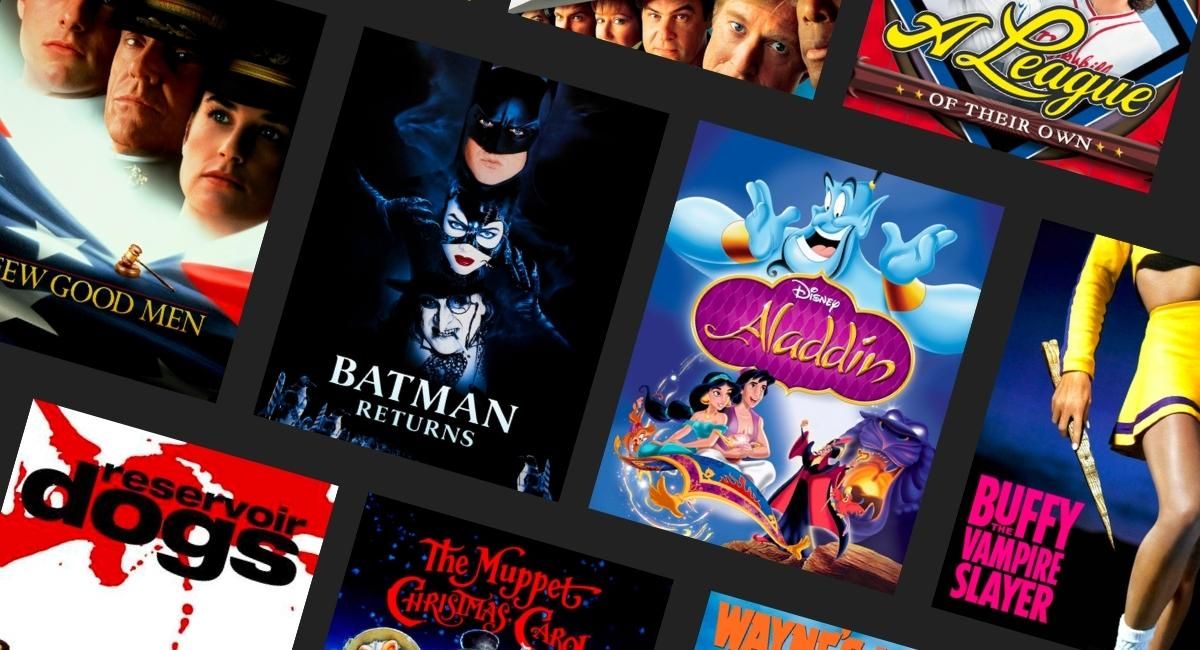 Francis Ford Coppola's Oscar-winning classic 'The Godfather' celebrates its 50th anniversary this year. That made us think, what other films are celebrating anniversaries this year?
In this 4-part series we will take a look at the best movies celebrating their 40th, 30th, 20th, and 10th anniversaries this year.
Now that we've gone through the 40th anniversaries, its time to countdown the best movies that were released in 1992 and are celebrating their 30th anniversaries.
Let's begin!
---
Wayne Szalinski (Rick Moranis) is at it again. But instead of shrinking things, he tries to make a machine that can make things grow. As in the first one, his machine isn't quite accurate. But when he brings Nick (Robert Oliveri) & his toddler son Adam to see his invention, the machine unexpectedly starts working. And when Adam comes right up to the machine, he gets zapped along with his stuffed bunny.
---
Blonde, bouncy Buffy (Kristy Swanson) is your typical high school cheerleader. But all that changes when a strange man informs her she's been chosen by fate to kill vampires.
---
When shadowy U.S. intelligence agents blackmail a reformed computer hacker (Robert Redford) and his eccentric team of security experts into stealing a code-breaking 'black box' from a Soviet-funded genius (Ben Kingsley), they uncover a bigger conspiracy. Now, he and his 'sneakers' must save themselves and the world economy by retrieving the box from their blackmailers.
---
Princess Jasmine (Linda Larkin) grows tired of being forced to remain in the palace, so she sneaks out into the marketplace, in disguise, where she meets street-urchin Aladdin (Scott Weinger). The couple falls in love, although Jasmine may only marry a prince. After being thrown in jail, Aladdin becomes embroiled in a plot to find a mysterious lamp with a secret Genie (Robin Williams), which the evil Jafar (Jonathan Freeman) hopes to use to rule the land.
---
Directed by Penny Marshall, as America's stock of athletic young men is depleted during World War II, a professional all-female baseball league springs up in the Midwest, funded by publicity-hungry candy maker Walter Harvey (Garry Marshall). Competitive sisters Dottie Hinson (Geena Davis) and Kit Keller (Lori Petty) spar with each other, scout Ernie Capadino (Jon Lovitz) and grumpy has-been coach Jimmy Dugan (Tom Hanks) on their way to fame.
---
Directed by Penelope Spheeris, the movie follows the adventures of two amiably aimless metal-head friends, Wayne (Mike Myers) and Garth (Dana Carvey). From Wayne's basement, the pair broadcast a talk-show called "Wayne's World" on local public access television.
The show comes to the attention of a sleazy network executive (Rob Lowe) who wants to produce a big-budget version of "Wayne's World"—and he also wants Wayne's girlfriend, a rock singer named Cassandra (Tia Carrere). Wayne and Garth have to battle the executive not only to save their show, but also Cassandra.
---
A "Muppet" retelling of the classic Dickens tale of Ebenezer Scrooge (Michael Caine), miser extraordinaire. He is held accountable for his dastardly ways during night-time visitations by the Ghosts of Christmas Past, Present, and Future.
---
Directed by Tim Burton, while Batman (Michael Keaton) deals with a deformed man calling himself the Penguin (Danny DeVito), an employee of a corrupt businessman transforms into the Catwoman (Michelle Pfeiffer).
---
Directed by Quentin Tarantino, a botched robbery indicates a police informant, and the pressure mounts in the aftermath at a warehouse. Crime begets violence as the survivors -- veteran Mr. White (Harvey Keitel), newcomer Mr. Orange (Tim Roth), psychopathic parolee Mr. Blonde (Michael Madsen), bickering weasel Mr. Pink (Steve Buscemi) and Nice Guy Eddie (Chris Penn ) -- unravel.
---
Directed by Rob Reiner, when cocky military lawyer Lt. Daniel Kaffee (Tom Cruise) and his co-counsel, Lt. Cmdr. JoAnne Galloway (Demi Moore), are assigned to a murder case, they uncover a hazing ritual that could implicate high-ranking officials such as shady Col. Nathan Jessep (Jack Nicolson).