Matt Damon and Christian Bale Ready to Rev in First 'Ford v Ferrari' Poster, Photos
Enjoy the first photos and poster of "Ford v. Ferrari," the real-life race car drama from "Walk the Line" director James Mangold starring Matt Damon and Christian Bale.
20th Century Fox also announced that the first trailer for the movie will debut Sunday night during Game 2 of the NBA Finals.
The story is set during the 1966's "24 Hours of Le Mans" race in France: Damon stars as American car designer Carroll Shelby who is tasked by Henry Ford himself to build a revolutionary car that could defeat Ferrari in the famous race. Bale plays fearless British racer Ken Miles, who's behind the wheel of the newly designed car.
A film about Shelby and Miles has been in the works for years, with Tom Cruise and Brad Pitt at one point attached to star. (Sorry, Cruise fans, you'll just have to go rewatch "Days of Thunder.")
"Ford v Ferrari" was initially set for a summer release, but Fox (which is now owned by Disney) pushed the film to a more awards-friendly November 15.
We imagine the race will also be between which actor gets more screen time, and who is positioned for Lead vs. Supporting Actor.
[Via Collider]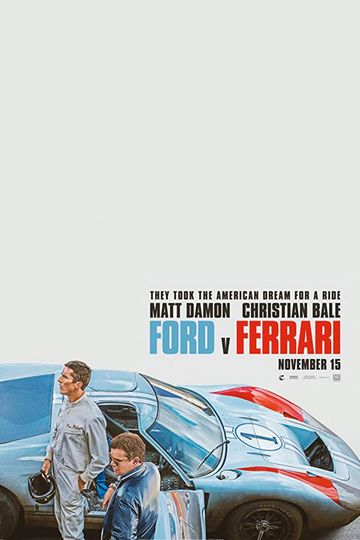 "They took the American dream for a ride"
2 hr 33 min
Nov 15th, 2019