Kevin Bacon Is Back to Battle More Graboids in 'Tremors,' the TV Series
Kevin Bacon will face-off with underground monsters once again as he revisits his role in 1990 B-movie "Tremors" for a new SyFy TV series.
In the 27 years since it came out, it deservedly gained cult status (we watch it whenever it's on TV, which is just about every day), but when it came out, it bombed big time. That's why Bacon chose to skip all four sequels. But he's now excited to return to the role of handyman-turned-monster-hunter Valentine McKee. Talking to Screen Daily at the Edinburgh International Film Festival, Bacon said, "It's the only character I've ever played that I was interested in exploring 25 years later. ["Tremors"] is a really good movie. I don't go back and watch my movies but because we were doing this one, I had to go back and look at it. It's just the idea of this loser who is living a very ordinary life and has an extraordinary experience with these monsters and becomes, for a moment, a hero."
Fred Ward returned for the first sequel as did Michael Gross, who's been in every "Tremors" film, but Bacon nixed the idea, until now. "I was like -- why would I make a sequel of a bomb? That makes no sense to me. I am not going to make another movie that's not going to do well at the box office. That is not a good career move," he told Screen Daily.
But now that the TV landscape has changed, he and producer Jason Blum are shooting a pilot for SyFy. He originally approached the Blumhouse CEO about reviving the franchise as a feature film, but it evolved into an 8-episode TV series.
There was a TV spinoff that ran briefly on Sci-Fi Channel (as SyFy used to be called) in 2003, but was quickly canceled. Michael Gross starred as gung-ho survivalist Burt Gummer.
We don't know yet if Gross, Ward or original star Reba McEntire will be back, but it seems like Gross has never said no to a "Tremors" project yet. Someone call Finn Carter (who played grad student Rhonda) and Ariana Richards (also of "Jurassic Park" fame), who returned for "Tremors 3: Back to Perfection."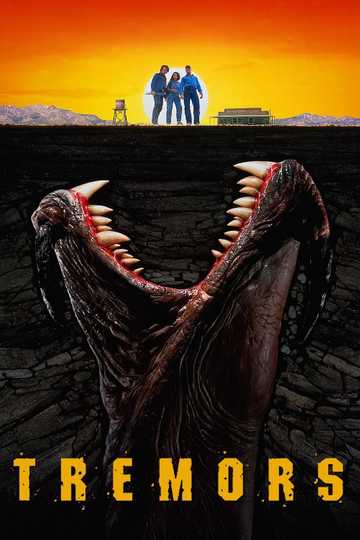 "The monster movie that breaks new ground."
1 hr 36 min
Jan 19th, 1990
Hick handymen Val McKee and Earl Bassett can barely eke out a living in the Nevada hamlet of Perfection, so they decide to leave town -- despite an admonition from... Read the Plot