Director Peter Sohn Explains Pixar's 'Elemental' and Introduces Footage
Moviefone visits Pixar Studios to screen footage from 'Elemental.' "I wanted to tell a story for everyone who's ever made a sacrifice," said director Peter Sohn.
The trailer for Pixar's new movie 'Elemental' dropped today, (which you can watch above), and Moviefone had the pleasure of traveling to Pixar Studios in Emeryville, California to meet director Peter Sohn and screen some exclusive scenes from the new movie!
What is the plot of 'Elemental?'
Disney and Pixar's "Elemental" is an all-new, original feature film set in Element City, where fire, water, land and air residents live together. The story introduces Ember (Leah Lewis), a tough, quick-witted and fiery young woman, whose friendship with a fun, sappy, go-with-the-flow guy named Wade (Mamoudou Athie) challenges her beliefs about the world they live in.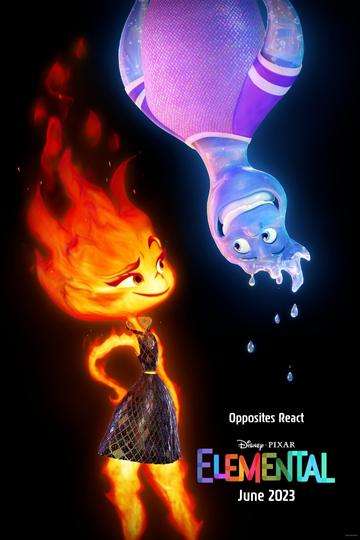 "Opposites react."
1 hr 42 min
Jun 16th, 2023
Showtimes & Tickets
In a city where fire, water, land, & air residents live together, a fiery young woman & a go-with-the-flow guy will discover something elemental: How much they have... Read the Plot
Who is in the voice cast of 'Elemental?'
Directed by Peter Sohn ('The Good Dinosaur'), 'Elemental' features the voices of Leah Lewis ('The Half of It') as Ember and Mamoudou Athie ('The Circle') as Wade, as well as the recently announced Ronnie del Carmen ('Soul') as Ember's dad Bernie, Shila Ommi ('The Illegal') as Ember's mom Cinder, Wendi McLendon-Covey ('Bridesmaids') as Wade's boss Gale, Catherine O'Hara ('Best in Show') as Wade's mom Brook, Joe Pera ('Bob's Burgers') as Fern, and Mason Wertheimer as Ember's neighbor Clod.
What footage did we screen at Pixar?
Moviefone had the pleasure of screening four never-before-seen scenes from 'Elemental.' Director Peter Sohn explained that some of the shots were just finalized days before the screening.
The first scene we screened was the opening on the movie. It begins with Ember (Lewis) as a small child arriving in Element City for the first time with her parents, Bernie (del Carmen) and Cinder (Ommi). What follows is a montage of Ember's childhood as her family opens a "coffee shop," they become an important part of the fire community and Ember learns to control her fiery temper.
The scene continues to present day, where Ember is still trying to control her temper, and her mother warns her that "Elements don't mix." When Ember's father puts her temper to the test by letting her be in charge of their red dot sale, she loses her temper causing the water pipes to break and putting her parent's store in jeopardy.
The flooding in their basement brings an uninvited guest in the form of Wade, an easygoing water-based being who works for the city's health department. While the two have an instant attraction, Wade is forced to write up Ember and her family's business for their violations.
The second scene involves Ember finding Wade to ask him not to report her family to his boss, a wind-creature known as Gail (McLendon-Covey). The two eventually go to a sporting event to find Gail, and this scene was shown to us in 3D. The sport they are attending is a version of basketball meets Quidditch that is played in the air by the gaseous creatures that reside in Element City. Gail is an obsessive fan and his too enthralled in the game to give Ember any attention. The scene ends with Ember in danger when the water-based creatures decide to start the wave to cheer on their team, which in this world is an actual tidal wave in the crowd that the fans create.
The third scene was a montage of Ember and Wade's romance, which includes them walking around Element City, seeing the movie 'Tide & Prejudice,' having their photo taken together, Ember walking on minerals to change the colors for Wade, and Wade creating a rainbow for Ember.
The final sequence was like a scene from 'Guess Who's Coming to Dinner,' when Wade takes Ember home to meet his affluent mother and family. They live in a luxury apartment building that is flowing with water everywhere, which makes it more than difficult for Ember to enter. Wade's mother, Brook (O'Hara), is extremely welcoming to Ember, which makes Wade cry … a lot. We are also introduced to Wade's little brothers, Marco and Polo.
The footage was impressive, both in 3D and the traditional format, and the animation looked unlike anything we've seen from Pixar before, actually making elements like fire and water come alive in a believable way. The story is also very cute, using a basic 'Romeo and Juliet' plot to tell a modern story about different cultures coming together to live in one community. Element City may also remind some Disney fans of 'Zootopia,' while the idea of bringing elements to life may remind some of the way emotions were brought to life in 'Inside Out.'
What Director Peter Sohn had to say about 'Elemental?'
After screening the footage, we had a chance to meet director Peter Sohn and he began by talking about the very personal inspiration he had for this movie.
"I thought I would share where this idea of 'Elemental' came from. It's really a mix of three very personal parts of my life. The first one is my parents. My parents came here from Korea in the late '60s, early '70s, to New York, and they didn't have a lot of money. They had no family. They didn't speak any English, but they managed to create a beautiful life in the Bronx. My dad owned a grocery store. I have so many memories of growing up in this shop and all my dad's customers came from everywhere. Like my parents, they left their homes to come to a new land and they all were mixing into beautiful little neighborhoods with their cultures and their languages. So from that, came this idea of beautiful little neighborhoods."
The director also talked about how he took his family's story and combined it with elements from the periodic table.
"When I saw the periodic table of elements when I was a kid, all I thought about was that these were apartment complexes and they all lived next to each other. Platinum lives next to gold, but be careful of mercury because they have toxic relationships. Stories of what these elements were doing in their apartments were just mixing around in my head."
Finally, the director revealed where the third part of his inspiration for the film came from.
"Then the last little piece was my wife, and this experience of marrying someone that wasn't Korean, or was a non-Korean woman. Because growing up, my grandmother's dying words were, "Marry a Korean." You saw a little bit of that in the footage. That comes from a real place and it created all these sort of culture clashes growing up."
But Sohn explained that even with this inspiration, he didn't have the story until he came up with the romance between Ember and Wade.
"But even with these key pieces in place, we could go anywhere. The possibilities were endless. But until we came up with the idea of opposites attracting, fire and water, we didn't have a clear focus of the film. Once that was our north star, we could adjust the characters and the obstacles that could happen to them. So with these three key inspirations and our guiding light of opposites attracting, the stories started to come together. I wanted to tell a story for everyone who's ever made a sacrifice or taken a risk and set it in the hustle and bustle of a crazy city."
Will There be a Theatrical Short Released with 'Elemental?'
Yes! Disney is bringing back their theatrical shorts that screen before their animated movies beginning with the release of 'Elementals.' The new short is entitled 'Carl's Date,' and features characters from Pixar's Oscar nominated 'Up.'
In the new short, Carl Fredrickson (voiced by the late Ed Asner) and his dog Dug (voiced by Bob Peterson) return as Carl reluctantly agrees to go on a date with a new lady friend, but admittedly with no idea how dating works these days. Ever the helpful friend, Dug steps in to calm Carl's pre-date jitters and offer some tried-and-true tips for making friends, if you're a dog. The short was written and directed by Bob Peterson and is a must-see for any 'Up' fans.
Other Movies Similar to 'Elemental:'
'Elemental' is produced by Walt Disney Pictures and Pixar. It is set to release in theaters on June 16th, 2023.