9 Movies You Should See Over Thanksgiving Break
In terms of the winter movie cycle, Thanksgiving is a great time to get caught up.
You have a couple of days off, are probably stuffed with, er, stuffing, and want to be prepared for the Christmas movie onslaught that is just around the corner, when both Mary Poppins and Spider-Man will be vying for your attention (amongst many, many others). So we've prepared a handy viewing guide for the Thanksgiving break, for when you want to escape to the theater with your loved ones, or leave them behind while they digest their turkey and watch whatever football game is on. And don't worry, if you want to watch Netflix instead, we've got that covered, too.
'Fantastic Beasts: The Crimes of Grindelwald'
Remember "Fantastic Beasts and Where to Find Them," 2016's ambitious but somewhat confusing fantasy romp that was supposed to serve as an extension of the lucrative Warner Bros. franchise but instead was kind of just huh? Well, they made another one! And this one is much better.
With Newt Scamander (Eddie Redmayne, again) dispatched to Paris to track down the powerful Credence (Ezra Miller) and foil the plot of villainous wizard Gellert Grindelwald (Johnny Depp), the movie adds some international intrigue, a more admissibly knotty plot and, thanks to an appearance by sexy young Albus Dumbledore (Jude Law), some concrete connections between the various strands of this franchise. Just be warned -- before you pile the family into the station wagon, it might be a good idea to re-watch the first movie. Consider that your magic spell for understanding "Fantastic Beasts: The Crimes of Grindelwald."
'Widows'
Given the pedigree, it's very clear that "Widows" isn't your run-of-the-mill thriller. Based on a British prime time series from 1983, it concerns a group of women (among them: Viola Davis, Michelle Rodriguez, Elizabeth Debicki and Cynthia Erivo) who are forced into a sticky situation when their criminal husbands are killed in a heist-gone-wrong.
Directed by Academy Award-winner Steve McQueen and co-written by Gillian Flynn (who wrote "Gone Girl" and "Sharp Objects"), this is a movie that thrills on both an intellectual and visceral level. "Ocean's 8" it is not.
'The Favourite'
This is the time of year when the studios unleash their stuffy period movies and, yes, there are even a few of those this year. But "The Favourite" is not one of them.
Rambunctious, sexy, and unpredictable, it's the antithesis of every boring costume drama that they throw Oscars at with willful abandon. This is electrically alive in a way few films, period or otherwise, ever are, anchored by a trio of brilliant female performers (Olivia Colman, Emma Stone and Rachel Weisz) and some of the finest direction this year (courtesy of Greek genius Yorgos Lanthimos). Set during the reign of Queen Anne (Colman) in the early part of the 18th century, it features palace intrigue, love triangles, and people getting pushed into muddy ditches. What more do you want?
'Ralph Breaks the Internet'
In the sequel to the hit 2012 animated film, Ralph (John C. Reilly) and Vanellope (Sarah Silverman) head to the Internet, where they fall in with online auctions, meme-creation, and a particularly violent "Grand Theft Auto"-style game called "Slaughter Race" that is lorded over by a bad-ass, leather-clad ringleader named Shank (Gal Gadot). Also, the Disney Princesses show up. As you can imagine, it's a lot of fun.
"Ralph Breaks the Internet" is one of those rare family sequels that won't leave you with a toothache from it being so sweet, there's actual pathos and emotionality but nothing feels syrupy or forced and it's honestly one of the most visually ravishing animated features you're ever likely to see.
'Green Book'
Up until this point, Peter Farrelly has directed as one-half of the Farrelly Brothers -- serving as the tag-team provocateurs behind gross-out extravaganzas like "Dumb and Dumber," "There's Something About Mary," and the underrated classic "Kingpin." So it's interesting to see Farrelly emerge as something of an Oscar frontrunner for his work directing "Green Book," a based-on-a-true-story racial drama starring Mahershala Ali and Viggo Mortensen.
In the film. Ali plays Don Shirley, a classical pianist, who hires New York tough guy Tony Vallelonga (Mortensen) to escort him on a tour of the South. This could be the feel-good movie of the fall, which makes it a perfect after-Thanksgiving family outing.
'Creed II'
Finally. The follow-up to 2015's brilliant "Rocky" refresh "Creed" is now upon us. Let us give thanks.
In "Creed II," Michael B. Jordan returns as Adonis Creed, the son of Apollo Creed, who this time turns to going toe-to-doe with Viktor Drago (Florian Munteanu), the son of Ivan Drago (Dolph Lundgren), who famously killed Apollo in the ring (in 1985's Cold War classic "Rocky IV"). Oh, and Rocky (Sylvester Stallone) is still around! So there's that. Hopefully the sequel builds on the intensity and excitement of the first film, while supplying some new wrinkles as well. We can already feel ourselves getting inspired.
'Roma'
Yes, "Roma" is a Netflix movie. But in a rare move, the streaming service is debuting the movie in theaters first, before it hits the platform in mid-December. And, really, you should do everything in your power to see it on the big screen. In fact, try and see it on the biggest screen possible. Because this movie is absolutely jaw dropping.
An epic on a miniature scale, the highly autobiographical film from "Gravity" filmmaker Alfonso Cuaron follows a middle-class family in Mexico City in the early 1970s dealing with heartache, political upheaval, and the day-to-day domestic drama that every family deals with. What makes this story even more captivating is that it's told through the eyes of the family's housekeeper Cleo (Yalitza Aparicio, giving one of the year's best performances even though she's not a professional actor). You have to see this with an audience in a theater. It just won't be the same on your iPad.
'Overlord'
If your family is really annoying you over Thanksgiving, it might be time to watch a little more muscular movie at the multiplex. Perhaps something like "Overlord," a high-concept World War II romp that features thrills, chills, and the cathartic experience of watching sweaty hunks brutally murder Nazis.
Conceived by mystery box magnate J.J. Abrams, "Overlord" is a hard-core horror movie mixed with an equally hardcore war movie, wherein a group of Allied soldiers (among them Jovan Adepo and Wyatt Russell) parachute into France to take down a radio tower on the eve of D-Day and wind up finding a gnarly zombie conspiracy. You know, that old story. But there are some definite grindhouse pleasures to be had as Nazis get shot, blown-up, and lit on fire and then come back from the dead to do it all again.
Because who doesn't love Queen?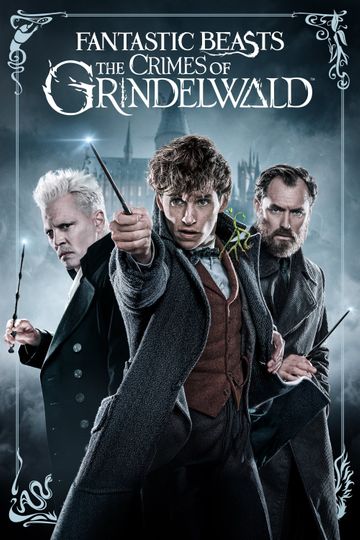 "Fate of one. Future of all."
2 hr 14 min
Nov 16th, 2018
Gellert Grindelwald has escaped imprisonment and has begun gathering followers to his cause—elevating wizards above all non-magical beings. The only one capable... Read the Plot