Best Movies Celebrating their 20th Anniversary in 2022
With Francis Ford Coppola's 'The Godfather' celebrating its 50th anniversary this year, Moviefone takes a look at the best films celebrating their 20th anniversary in 2022!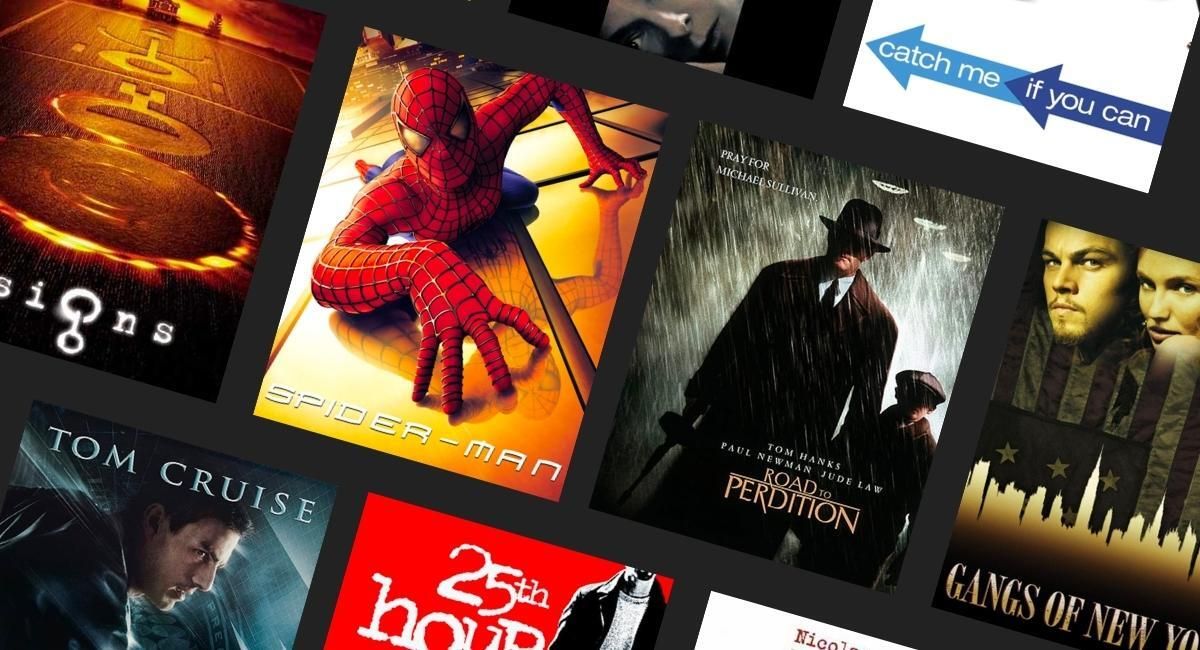 Francis Ford Coppola's Oscar-winning classic 'The Godfather' celebrates its 50th anniversary this year. That made us think, what other films are celebrating anniversaries this year?
In this 4-part series we will take a look at the best movies celebrating their 40th, 30th, 20th, and 10th anniversaries this year.
Next, we will countdown the best movies that released in 2002 and are celebrating their 20th anniversaries.
Let's begin!
---
Directed by Martin Scorsese and set in 1863, Amsterdam Vallon (Leonardo DiCaprio) returns to the Five Points of America to seek vengeance against the psychotic gangland kingpin, Bill the Butcher (Daniel Day-Lewis), who murdered his father (Liam Neeson) years earlier. With an eager pickpocket (Cameron Diaz) by his side and a whole new army, Vallon fights his way to seek vengeance on the Butcher and restore peace in the area.
---
Directed by M. Night Shyamalan, a family (Mel Gibson, Joaquin Phoenix, Rory Culkin, and Abigail Breslin) living on a farm finds mysterious crop circles in their fields which suggests something more frightening to come.
---
Directed by David Fincher, trapped in their New York brownstone's panic room, a hidden chamber built as a sanctuary in the event of break-ins, newly divorced Meg Altman (Jodie Foster) and her young daughter Sarah (Kristen Stewart) play a deadly game of cat-and-mouse with three intruders - Burnham (Forest Whitaker), Raoul (Dwight Yoakam) and Junior (Jared Leto)- during a brutal home invasion. But the room itself is the focal point because what the intruders really want is inside it.
---
Directed by Curtis Hanson, for Jimmy Smith, Jr. (Eminem), life is a daily fight just to keep hope alive. Feeding his dreams in Detroit's vibrant music scene, Jimmy wages an extraordinary personal struggle to find his own voice - and earn a place in a world where rhymes rule, legends are born and every moment… is another chance.
---
Directed by Spike Jonze, Nicolas Cage is Charlie Kaufman, a confused L.A. screenwriter overwhelmed by feelings of inadequacy, sexual frustration, self-loathing, and by the screenwriting ambitions of his freeloading twin brother Donald (Cage).
While struggling to adapt "The Orchid Thief," by Susan Orlean (Meryl Streep), Kaufman's life spins from pathetic to bizarre. The lives of Kaufman and Orlean's book, become strangely intertwined as each one's search for passion collides with the others'. Chris Cooper received an Academy Award for his performance as horticulturist John Laroche.
---
Directed by Spike Lee, in New York City in the days following the events of 9/11, Monty Brogan (Edward Norton) is a convicted drug dealer about to start a seven-year prison sentence, and his final hours of freedom are devoted to hanging out with his closest buddies (Philip Seymour Hoffman and Barry Pepper) and trying to prepare his girlfriend (Rosario Dawson) for his extended absence.
---
Directed by Steven Spielberg, the film follows the true story of Frank Abagnale Jr. (Leonardo DiCaprio ) who, before his 19th birthday, successfully conned millions of dollars worth of checks as a Pan Am pilot, doctor, and legal prosecutor.
An FBI agent (Tom Hanks) makes it his mission to put him behind bars. But Frank not only eludes capture, he revels in the pursuit. The movie also features Christopher Walken, Amy Adams, Jennifer Garner, Elizabeth Banks, and Martin Sheen.
---
Directed by Steven Spielberg,  John Anderton (Tom Cruise) is a top 'Precrime' cop in the late-21st century, when technology can predict crimes before they're committed. But Anderton becomes the quarry when another investigator (Colin Farrell) targets him for a murder charge.
---
Directed by Sam Mendes, Mike Sullivan (Tom Hanks) works as a hit man for crime boss John Rooney (Paul Newman). Sullivan views Rooney as a father figure, however after his son (Tyler Hoechlin) is witness to a killing, Mike Sullivan finds himself on the run in attempt to save the life of his son and at the same time looking for revenge on those who wronged him. Also starring Daniel Craig, Jude Law, and Jennifer Jason Leigh and Stanley Tucci.
---
Directed by Sam Raimi, after being bitten by a genetically altered spider at Oscorp, nerdy but endearing high school student Peter Parker (Tobey Maguire) is endowed with amazing powers to become the superhero known as Spider-Man. The movie also stars Willem Dafoe, Kirsten Dunst, and J.K. Simmons.
---